6 Tips for Taking a Hike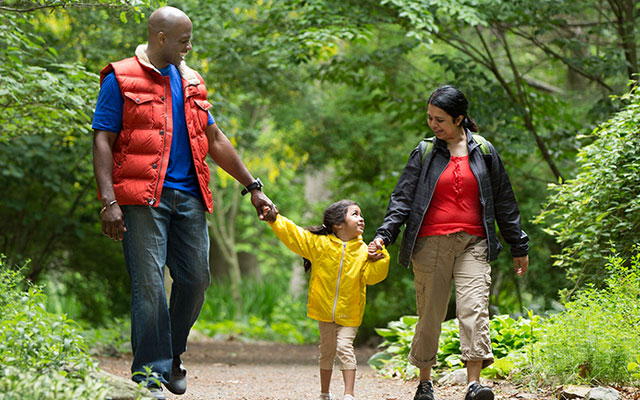 Hiking is a terrific way to enjoy nature and get a great workout. Whether you prefer to be above the clouds or to explore a nearby park, join the millions of Americans who've made hiking one of the most common forms of recreation.
A simple day hike over easy terrain usually just requires water, some food, sunscreen, and a good pair of hiking shoes. But a longer hike, or one that could take you to potentially dangerous environments, requires a bit more preparation. Wherever your trail takes you, get the most out of your hike with these six steps:
Train for the trail.
You've decided to give hiking a try. But, before you do anything, it's important to make sure that your abilities match your aspirations. Even if you're used to walking long distances, it's not the same when you're suddenly facing difficult conditions and are carrying a heavy backpack.

If your long-term goal is to attempt a day (or longer) hike, you should plan a basic training routine. Beginners especially should start out slowly, maybe attempting one-to-three-mile hikes once or twice a week. As you progress, increase the time of your hikes and try carrying a small backpack to get used to the extra weight. You should also try hiking different terrains, both uphill and downhill. Slowly increase the number of days that you go on "practice" hikes.

Stretch it out before you head out.

Hiking can be a vigorous activity, requiring movements that you may not be used to. So you'll need to make sure to do some quick, easy stretches before and after any hike, regardless of length or terrain. (Before you stretch, be sure to warm up with a brisk walk.) Stretch your entire body, but focus on your lower body, including the calves, hamstrings, quadriceps, and lower back.

Don't forget the essentials.

There are lots of things you could pack for a long hike, but the following items are essential (plus a lightweight pack to keep them in):

Map and compass
Whistle
Water
Matches
Extra food
First aid kit
Sunscreen/sunglasses
Rain gear and extra clothes
Knife and/or multi-purpose tool
Flashlight and extra batteries

You can tailor this list based on the length and difficulty of your hike. According to the American Hiking Society, optional items include a watch, toilet paper, alcohol wipes, insect repellent (DEET is recommended), lip balm, plastic storage bags, twine or nylon cord, duct tape, a blanket, and a cell phone. Even if you'll only be out for a couple of hours, take carbohydrate- or protein-packed snacks for energy, such as granola or other cereals, dried or fresh fruit, crackers, pretzels, nuts, or cheese.

Put your feet first.

No matter what, you must have the right pair of shoes or boots for hiking. Shoes that don't fit properly can be painful and will make your experience miserable. You should look for a hiking shoe or boot that feels good as soon as you put it on—never try to "break in" a shoe on a hike. It should fit the shape of your foot, but allow a little more room at the toe than you might be used to. The heel of the shoe should "lock" in your heel and not allow it to twist or move much. Get about a half size bigger than you normally do, to allow for thicker socks. And shop for your shoes or boots at the end of the day, when your feet are at their largest.

Dress the part.

The basic rule of thumb when it comes to clothing is to plan ahead and dress appropriately for the weather. Since weather can change quickly (especially in a mountainous environment), you should be prepared for any sudden shifts. Dress in layers so you can cool off or warm up as needed. Choose lightweight, light-colored (especially in summer), quick-drying clothing (cotton is not advisable) that is easy to fold and pack, and have extras of each item with you in case you get wet or need to add a layer. It's also a good idea to keep extra clothes in your car.

Be smart, safe, and responsible.

Hikers should always remember that they are "guests" of nature and the environment. So be sure to follow all marked signs and rules of the particular area you are in. Avoid damaging property, building fires in undesignated areas, littering, or contaminating water sources. You should also never pick flowers or plants, or disturb wildlife you may come across. Use common sense at all times, and plan ahead so you can be prepared for anything. Following these simple guidelines will make your experience—and that of other hikers—much more enjoyable.