Great Biking in Rhode Island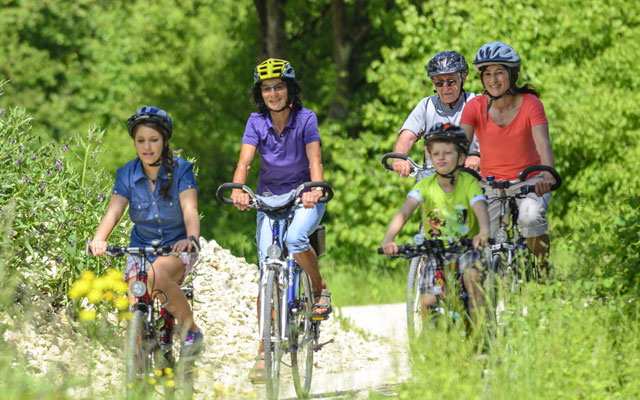 Rhode Island is home to many scenic, accessible bike paths. Most of them are built in former railroad corridors, making them flat and suitable for cyclists of all levels. Put your feet to the pedals and check out these paths.
Blackstone River Bikeway
Woonsocket to Cumberland
Length: 11.6 miles
Difficulty: Moderate
Following the Blackstone River and historic Blackstone Canal, this picturesque trail is lined with mills and marshes. Be prepared for some on-road segments.
East Bay Bike Path
India Point Park, Providence to Independence Park, Bristol
Length: 14.5 miles 
Difficulty: Easy to moderate
The ride toward and along Narragansett Bay is smooth and tranquil, save for a singular hill in East Providence. Riders can follow spur trails to Squantum Woods, Colt State Park, and other state recreational areas. 
Ten Mile River Greenway
Slater Park, Pawtucket to Kimberly Ann Rock Athletic Fields, East Providence
Length: 3 miles
Difficulty: Easy
Ride along the James Turner Reservoir on one of the state's few paths not built on a former railway. Though not completely flat, this short trail is enjoyable for recreational bikers of all levels.
William C. O'Neill Bike Path
Kingston Station, West Kingston to Mumford Road, Narragansett
Length: 7 miles
Difficulty: Easy
This South County path was created to give kids a safe way to ride to school. Commuters and recreational riders alike enjoy this calm, tree-lined ride. 
Washington Secondary Bike Path
Cranston Street, Cranston to Log Bridge Road, Coventry
Length: 19 miles
Difficulty: Easy to moderate
The state's longest trail is mostly flat and suitable for cyclists of all ages and ability. But consider the length of your journey before riding; completing the entire trail could be challenging for some.
Fred Lippitt Woonasquatucket River Greenway
Lyman Avenue, Johnston to Waterplace Park, Providence
Length: 5 miles
Difficulty: Moderate to difficult
Connecting neighborhoods along the river, this on and off-road trail is popular with commuters. The two-mile on-road portion converges with Providence traffic and is recommended for experienced bikers.
6 tips for biking safety
1. Wear a helmet. (For cyclists under age 15, it's the law.)
2. Stay hydrated.
3. Obey traffic laws.
4. At night, wear bright colors and reflective gear and use bike lights.
5. Use signals.
6. Always be alert.
You can learn more about the state's bike paths on the Rhode Island Department of Transportation website.