For Paula, Getting Fit Is Fun (and Free)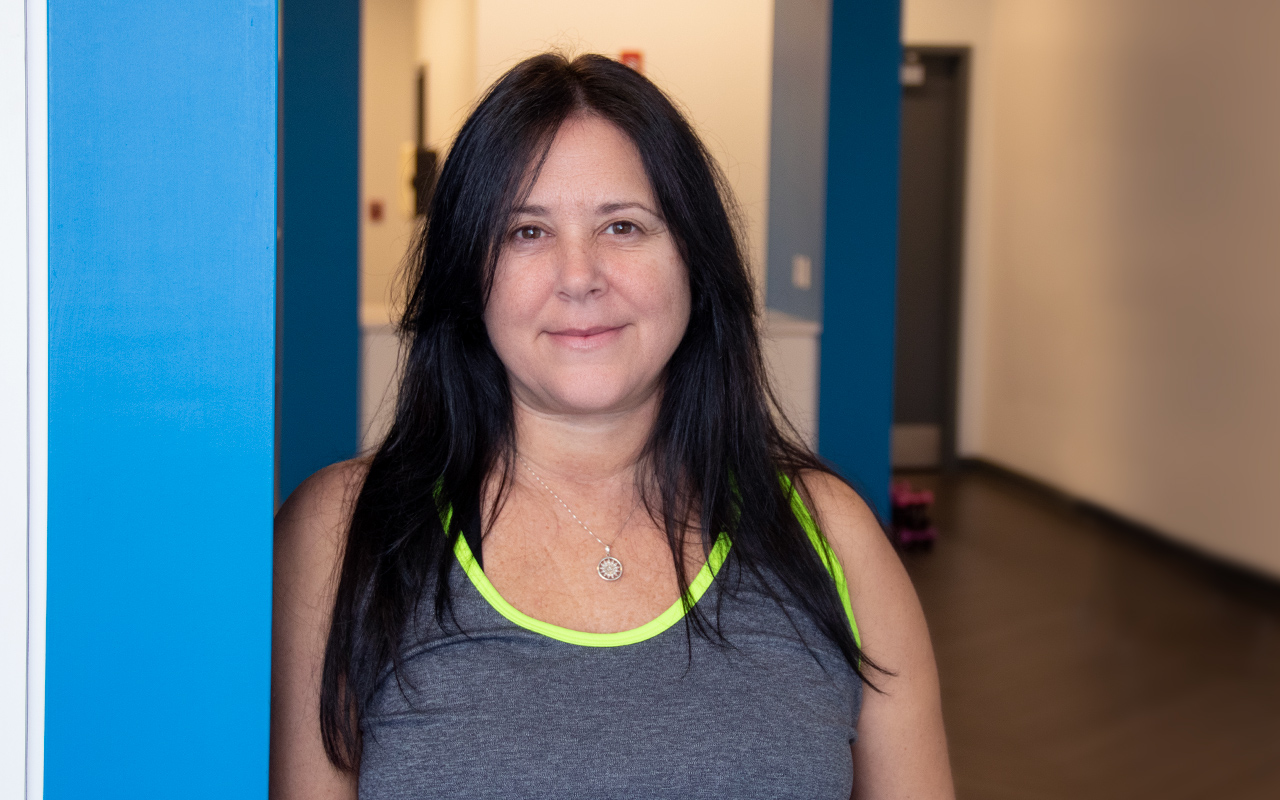 Paula White works third shift at Bradley Hospital, taking care of children with autism, and gets out of work at 7:30 a.m. Several days a week, she goes home, changes, and then heads right back out—to take fitness classes (yes, plural!) at Your Blue StoreSM in East Providence.
"My sister-in-law had told me about the free fitness classes offered at the stores. It motivates me to get that fitness in before going to bed," said Paula.
Paula said that she worked out when she was younger but had fallen out of it. "Then COVID happened, and I gained a little bit of weight. Taking the store classes made me motivated to get healthier. It makes me look forward to doing something instead of going home and going to sleep." She often takes two classes in a row, like Butts & Guts followed by Zumba.
Paula shared more about her experience with the classes and the other fitness benefits available through her BCBSRI health plan through Lifespan:
What's special about the classes: "I've met a lot of nice people—we have fun and joke around. I see them every week, so it's starting to feel like family. It's good for the heart! I've even convinced some of them to stay for the second class with me."
How her health has improved: "I feel better, stronger, and can do more during the day. Now that I'm more active, I feel like eating healthier. Instead of having a whole dessert, I might have a nibble."
How she stays fit at work: "Our wellness benefits include the Virgin Pulse app, which lets us track our steps. I used my Blue Cross wellness reimbursement to get a Fitbit and connected it to the app. I love my coworkers at Bradley because they motivate me to get up and move. It's become a friendly competition with all of us trying to get more steps!"
Her advice for other members: "I think a lot of people avoid taking the classes at Your Blue Store because they think it is only for people who are retired. I don't feel that way at all. I love it there. We all have issues with our bodies, but no one is looking at you and judging you. We're all just there to work out, have fun, and get healthier. So don't be shy about trying it out!"
Take Paula's advice!
Interested in trying a fitness class? You can choose from dozens of classes each week at Your Blue Store locations in Cranston, East Providence, Lincoln, and Warwick. Sign up for one today! 
If your BCBSRI health plan includes our wellness program, powered by Virgin Pulse®1, you can also earn points and get motivated with healthy team challenges, customized nutrition tools, and trackers for activity, weight, sleep, and mood. To get started, sign up at join.VirginPulse.com or by downloading the Virgin Pulse app from the Apple App Store or Google Play.2 Choose Blue Cross & Blue Shield of Rhode Island as your sponsor, then connect your Fitbit® or other wearable device to track and sync steps with the app.
1Virgin Pulse® is an independent wellness company, contracted by BCBSRI to provide wellness services. Virgin Pulse is available to BCBSRI subscribers (the primary person on the BCBSRI health plan) and their enrolled spouses. Not all employers offer Virgin Pulse through their plan. Standard mobile phone carrier and data usage charges apply. The downloading and use of the Virgin Pulse mobile app is subject to the terms and conditions of the app and the online stores from which it is downloaded.
2Apple and the Apple logo are trademarks of Apple Inc., registered in the U.S. and other countries. App Store is a service mark of Apple Inc. Google Play is a trademark of Google Inc.