4 Dinners Under $10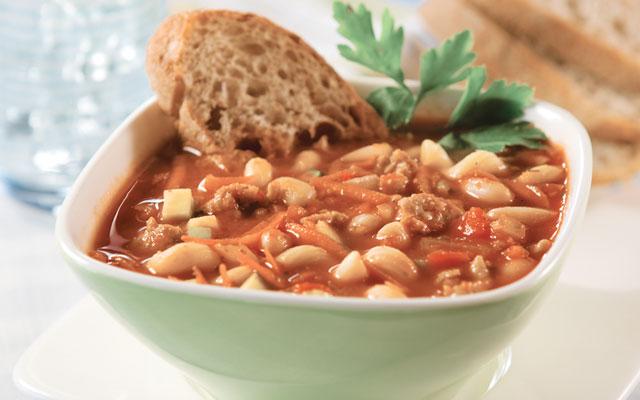 Looking for easy ways to stretch your grocery dollar without sacrificing taste or nutrition? Try building your meals around beans, one of nature's most perfect—and affordable—foods.
Part of the family of fruits known as legumes, bean types include black, cannellini, garbanzo, kidney, navy, pinto, and soy, to name a few. Other legumes include lentils, peas, carob, and peanuts. For thousands of years, beans have been a dietary staple all over the world, and for good reason. They're extremely nutritious, easy to store (either dry or canned), easy to prepare—and easy on your wallet.
Bean and Pasta Soup
This hearty soup makes a quick and easy weekday meal your whole family will enjoy. Simply leave out the ground meat for a satisfying vegetarian alternative.
Makes 4-6 servings
1 Tbsp. olive oil
½ lb. ground turkey or beef
1 medium onion, chopped
1 carrot, shredded
1 stalk celery, diced
2 cloves garlic, minced
½ tsp. dried oregano
1 tsp. dried basil
4 cups beef or vegetable stock
1 28 oz. can crushed tomatoes
1 15.5 oz. can cannellini beans, drained and rinsed
1 small zucchini, diced
2 Tbsp. fresh parsley, chopped
1 cup uncooked small pasta such as shells or tubes
Salt and pepper to taste
¼ cup Parmesan cheese (optional)
In a large pot, heat oil and brown meat. Add onion, carrot, and celery and sauté 4-5 minutes. Add garlic, oregano, and basil and sauté 2 more minutes. Add stock, tomatoes, and cannellini beans. Bring to a boil, cover, and simmer 10-15 minutes. Add zucchini, parsley, and pasta and return to a boil. Cook until pasta is tender, 6-8 minutes. Add salt and pepper to taste. Ladle into serving bowls and top with Parmesan cheese if desired.
To complete the meal: Serve with crusty Italian whole-grain bread.
Chickpea Garden Burgers
In the mood for a burger? Try this healthy meatless alternative that's sure to satisfy. Enjoy it with your favorite condiments, lettuce, tomato, pickle, avocado, and other burger toppings.
Makes 4 servings
1 15.5 oz. can garbanzo beans, drained and rinsed
½ cup bread crumbs
¼ cup sunflower seeds or nuts, finely chopped
½ medium onion, finely chopped
1 stalk celery, finely chopped
1 carrot, grated
¼ cup fresh parsley, finely chopped
1 tsp. garlic powder
2 Tbsp. soy sauce
1 egg, lightly beaten
¼ tsp. black pepper
2 Tbsp. cooking oil
4 whole-wheat burger buns
Coarsely mash garbanzo beans with a fork or masher. Add remaining ingredients and mix thoroughly. Form into four patties. Meanwhile, heat oil in large skillet and cook over medium heat until brown. Flip over and brown other side. Serve on a lightly toasted bun with your favorite toppings.
To complete the meal: Serve with roasted sweet potato wedges.
Side: Roasted Sweet Potato Wedges
Makes 4 servings
3 medium sweet potatoes
3 Tbsp. olive oil
Salt and pepper
Preheat oven to 375 degrees. Scrub sweet potatoes (or peel if you prefer) and cut into wedges. Place in a bowl and add olive oil, salt, and pepper. Toss until wedges are well coated. Place on a baking sheet in a single layer. Roast for 40-45 minutes, turning them halfway through cooking time.
Black Bean and Sweet Potato Quesadillas
Your kids will have fun helping you make this quick and easy meal. To save time, cook the sweet potatoes up to three days ahead. To adjust the level of spiciness, use hot salsa or jalapeño Jack cheese to suit your taste.
Makes 4-6 servings
5 cups sweet potato, scrubbed and cubed
½ tsp. salt
1 15.5 oz. can black beans, drained and rinsed
1 jar mild salsa
8 oz. Monterey Jack cheese, grated
4-6 large whole-wheat tortillas
1 avocado, diced (optional)
Fresh lime wedges (optional)
To boil, place sweet potato chunks in pan. Cover with water and bring to a boil. Cover pot and simmer until tender, about 15 minutes. Drain pot, then mash sweet potatoes and combine with salt. To assemble quesadillas: Spread mashed sweet potato over each tortilla. Over half of tortilla, add a layer of black beans, salsa, and cheese. Fold tortillas in half and heat in a nonstick pan or griddle over medium heat until golden brown on each side, turning once. Keep quesadillas warm in the oven until ready to serve. Cut in half and top with salsa, avocado, and a squeeze of fresh lime juice.
To complete the meal: Serve with a green salad or fresh corn.
Tofu and Green Bean Stir-Fry with Peanut Sauce
This recipe packs a quadruple punch of nutrition with four members of the legume family: green beans, tofu, peanuts, and bean sprouts.
Makes 4 servings
Sauce
2 cloves garlic, minced
2 tsp. fresh ginger, grated
2 Tbsp. soy sauce
1 Tbsp. honey
3 Tbsp. peanut butter
2 tsp. lemon or lime juice
1 small tomato, diced
½ cup water
Pinch red pepper flakes (optional)
Stir-Fry
2 Tbsp. canola oil
8 oz. extra firm tofu, diced small
1 small onion, sliced
¾ lb. fresh green beans
½ lb. bean sprouts
½ red bell pepper, sliced thin
½ cup whole peanuts (optional)
3 Tbsp. fresh basil, chopped (optional)
In a blender, combine all sauce ingredients and blend until smooth. Set aside. In wok or large skillet, heat oil and stir-fry tofu cubes over high heat until golden brown, 5-7 minutes. Remove tofu and set aside. Add onion and green beans to wok (add more oil if needed) and stir-fry until tender crisp, about 5 minutes. Add half of the bean sprouts and red bell pepper and stir-fry 2 more minutes. Add sauce and stir-fry until heated, 1-2 minutes. Top with remaining bean sprouts, whole peanuts, and fresh basil.
To complete the meal: Serve with steamed brown rice.
Side: Brown Rice
Makes 4 servings
Rinse 1½ cups brown rice in water and drain. Place brown rice in medium pot and add 3 cups water. Bring to a boil. Cover pot and simmer for 35-40 minutes.
The mighty bean
An important part of a healthy diet, beans are an excellent source of:
Dietary fiber. Fiber is proven to lower cholesterol, reduce the risk of heart disease and certain cancers, aid digestion, and maintain blood sugar levels, which is especially good for people with diabetes or hypoglycemia.
Energy and protein. Beans contain energy-sustaining complex carbohydrates, and provide your body with high-quality, virtually fat-free protein.
Essential vitamins and minerals. Beans are high in iron, B vitamins, potassium, magnesium, and zinc.