4 Pantry-Friendly Meals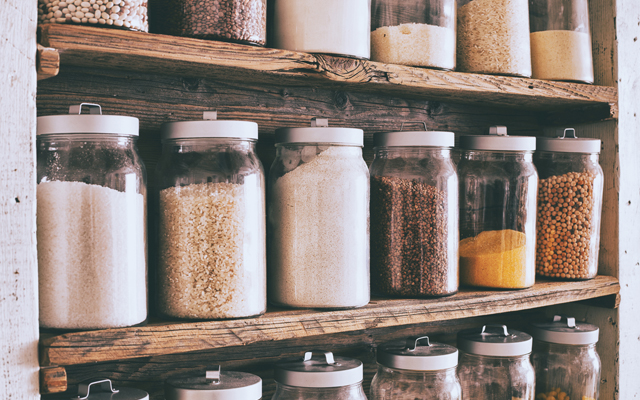 If your refrigerator is looking pretty bare and you're out of ideas, a well-stocked pantry can literally save the day. Your pantry includes items you keep on the shelf, in the freezer, and in the refrigerator that can be stored for a long period of time. These ingredients can be combined in lots of ways to create healthy, affordable meals your whole family will enjoy.
Pantry Shopping List 
Download this shopping list of basic items so you can take it to the grocery store. Keeping these items on hand will help you make dinner in a snap.
Recipes
Salmon Burgers with Oven Fries
Servings: 6
3 medium sweet potatoes
1½ Tbsp. extra-virgin olive oil
1 14.75 oz. can wild Alaskan salmon, drained
2 Tbsp. onion, minced
1 dill pickle, minced
1 Tbsp. light mayonnaise
1 egg
½ cup oats, ground up
Salt and pepper to taste
2-3 Tbsp. corn meal
1½ Tbsp. safflower oil
6 whole-grain burger buns or bread, lightly toasted
Preheat oven to 375 degrees. Scrub sweet potatoes, cut into fries or wedges, and toss with olive oil in a bowl. Place in a single layer on baking sheet and bake for 35-45 minutes until golden brown. Meanwhile, in a mixing bowl, flake salmon with a fork, add onion, pickle, mayonnaise, egg, oat crumbs, salt, and pepper, and combine ingredients. Form into four patties and lightly roll in corn meal. Heat safflower oil in large skillet and cook salmon burgers until golden brown on each side, about 3-4 minutes per side. Serve on buns or bread, open face if desired, with sweet potatoes on the side.
Nutrition facts per serving: 458 calories, 16 g total fat (2 g saturated fat), 31 g carbohydrates, 28 g protein, 8 g dietary fiber, 570 mg sodium
Pasta with Chickpeas and Olives
Servings: 6
1 13.25 oz. box whole-grain ziti/penne
2 Tbsp. extra-virgin olive oil
3 cloves garlic, minced
½ tsp. dried basil
¼ tsp. dried thyme
½ tsp. dried oregano
¼ tsp. black pepper
1 28 oz. can stewed tomatoes, drained (reserve liquid) and diced
1 15.5 oz. can chickpeas, no or low-sodium, drained and rinsed
1 cup black olives, sliced in half
Salt to taste
Parmesan cheese, grated
In a large pot, cook pasta according to package directions. Meanwhile, in a large skillet, sauté garlic in olive oil over medium-high heat for 1-2 minutes. Stir in basil, thyme, oregano, and pepper and sauté 1 minute. Add tomatoes, chickpeas, olives, and salt to taste and simmer for 4-5 minutes. Drain pasta and toss with tomato sauce. Add some of the reserved liquid from the tomatoes if needed. Top with Parmesan cheese.
Variations: Add frozen spinach or broccoli, substitute cannellini beans for chickpeas, or use another kind of pasta.
Nutrition facts per serving: 411 calories, 9 g total fat (1 g saturated fat), 73 g carbohydrates, 14 g protein, 6 g dietary fiber, 543 mg sodium
Pantry Rice and Beans
Servings: 4
1 cup long-grain brown rice
2 cups water
1 small onion, chopped
2 cloves garlic, minced
2 Tbsp. olive oil
24 oz. no- or low-sodium black beans, drained and rinsed
1¼ cups water
1 tsp. cumin
1 tsp. chili powder
Salsa (optional)
Grated cheddar (optional)
In a medium saucepan, combine rice and 2 cups of water. Bring to a boil, cover, and reduce heat to low; simmer for 30-40 minutes until done. Meanwhile, in a medium skillet, sauté onion and garlic in olive oil until translucent, 3-4 minutes. Add black beans, water, cumin, and chili powder. Simmer until rice is done. Mash some of the beans to thicken if desired. Top with salsa and cheese, if desired.
Nutrition facts per serving: 466 calories, 9 g total fat (1 g saturated fat), 78 g carbohydrates, 19 g protein, 17 g dietary fiber, 411 mg sodium
Chicken Florentine Soup with Rice
Servings: 4
1 Tbsp. olive oil 
1 medium onion, chopped
2 cloves garlic, minced
1 32 oz. box low-sodium chicken broth
1 cup water
2 frozen chicken breasts (with bone)
½ cup uncooked brown rice (or 1 cup cooked)
¼ tsp. salt
¼ tsp. black pepper
1 cup frozen carrots
1 cup frozen spinach
Salt and pepper to taste
In a large pot, heat oil and add onion and garlic and sauté until translucent. Add chicken broth, water, chicken breasts, brown rice (if uncooked), salt, and pepper and bring to a boil. Reduce heat to low and simmer 20-25 minutes. Remove chicken breasts and shred off the meat with a fork. Discard bones and return meat to the pot. Add carrots and simmer for 5 minutes. Add spinach and simmer 5 more minutes.
Nutrition facts per serving: 264 calories, 8 g total fat (1.8 g saturated fat), 0 g Trans fat, 25 g carbohydrates, 2 g dietary fiber, 21 g protein, 291 mg sodium