5 Creative Cranberry Recipes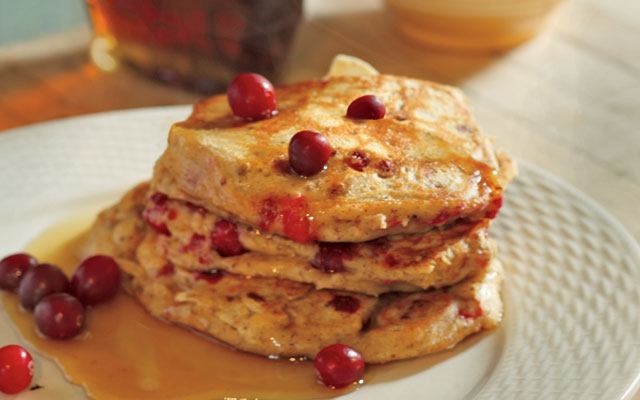 Enjoy the distinctively tart flavor of cranberries (and get your vitamin C, fiber, and other nutrients!) with five delicious recipes.
Roasted Butternut Squash with Cranberries
6 servings
1 medium butternut squash, peeled and cubed
1 apple, chopped
½ cup cranberries, fresh or frozen
2 Tbsp. extra-virgin olive oil
1 Tbsp. brown sugar
Pinch of salt and pepper
Preheat oven to 375 degrees. In a large mixing bowl, combine all ingredients until squash and fruit are covered. Place in a 13"x 9" baking dish and cover with foil. Bake for 30 minutes. Remove foil and roast for another 10-15 minutes or until done.
Quinoa Cranberry Pilaf
4 servings
½ medium onion, chopped
1 tsp. extra-virgin olive oil
1 cup dry quinoa, rinsed
1 cup water
1 cup chicken broth
½ cup dried cranberries
2 Tbsp. fresh parsley, chopped
½ cup slivered almonds or sunflower seeds, toasted
In a medium pot over medium heat, sauté onion in the oil until translucent, 3-5 minutes. Stir in the quinoa and cook for 1-2 minutes more. Add water and broth and bring to a boil. Cover pot and simmer for 15-20 minutes. Turn off heat. Add cranberries, parsley, and almonds (do not stir in yet) and replace cover. Let sit for 5 minutes, then gently combine all ingredients.
Whole-grain Cranberry Pancakes
4 servings
1 cup white whole-wheat flour
2 Tbsp. flax meal
2 tsp. baking powder
1 Tbsp. sugar
¼ tsp. salt
1 egg, beaten
2 Tbsp. safflower oil (or other light cooking oil)
1¼ cup low-fat milk
1 cup cranberries, fresh or frozen, coarsely chopped
100% real maple syrup for serving
In a large bowl, combine flour, flax meal, baking powder, sugar, and salt. Set aside. In medium bowl, whisk the egg with oil and milk. Add to dry mixture along with cranberries and stir until just combined. Heat up large skillet or griddle to medium and lightly grease. Place about ¼ cup of batter for each pancake and cook until golden brown, 2-3 minutes, then flip to cook other side. Keep warm until ready to serve.
Spinach Salad with Cranberry Vinaigrette
4 servings
For vinaigrette:
1 cup cranberry juice
½ cup cranberries, fresh or frozen
1 tsp. onion, minced
1 Tbsp. extra-virgin olive oil
1 Tbsp. red wine vinegar
1 tsp. honey
Salt and pepper to taste
For salad:
10-oz. bag baby spinach
1 apple, cored and diced
½ cup walnuts, toasted and cooled
½ cup dried cranberries
2 Tbsp. crumbled feta, goat, blue cheese (optional)
In a small saucepan, combine cranberry juice, cranberries, and onion. Cook over medium heat for about 5 minutes, until berries pop. Let cool slightly. Place in blender with remaining vinaigrette ingredients and blend until smooth. Chill in the refrigerator until ready to serve. Place salad ingredients in a serving bowl and serve or toss with the vinaigrette.
Cranberry Smoothie
2 servings
1 cup cranberries, fresh or frozen
1 banana
1 cup orange juice or cranberry juice
1 cup plain low-fat yogurt
1 cup ice cubes
2-3 tsp. honey (optional)
Place all ingredients in a blender or food processor and blend until smooth.