Bean and Pasta Soup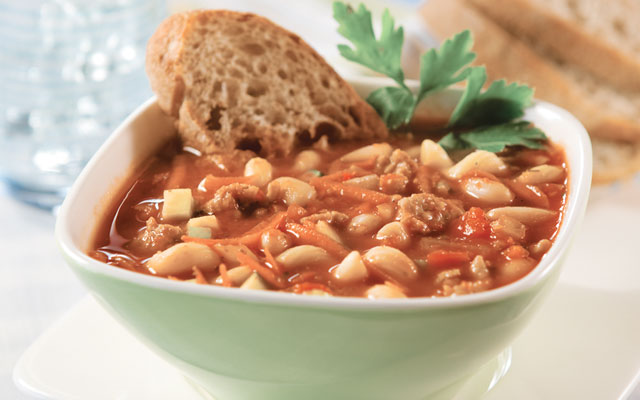 Ingredients
1 Tbsp. olive oil
½ lb. ground turkey or beef
1 medium onion, chopped
1 carrot, shredded
1 stalk celery, diced
2 cloves garlic, minced
½ tsp. dried oregano
1 tsp. dried basil
4 cups low-sodium vegetable stock
28 oz. can crushed tomatoes
15.5 oz. can cannellini beans, drained and rinsed
1 small zucchini, diced
2 Tbsp. fresh parsley, chopped
1 cup uncooked small pasta such as shells or tubes
Salt and pepper to taste
¼ cup Parmesan cheese (optional)
Directions
In a large pot, heat oil and brown meat.
Add onion, carrot, and celery and sauté 4-5 minutes.
Add garlic, oregano, and basil and sauté 2 more minutes.
Add stock, tomatoes, and cannellini beans.
Bring to a boil, cover, and simmer 10-15 minutes.
Add zucchini, parsley, and pasta and return to a boil.
Cook until pasta is tender, 6-8 minutes.
Add salt and pepper to taste. Ladle into serving bowls and top with Parmesan cheese if desired.
To complete the meal: Serve with crusty Italian whole-grain bread.
Nutritional info
338 calories, 9 g total fat (2 g saturated fat), 50 mg cholesterol, 337 mg sodium, 40 g total carbohydrate, 25.5 g protein
---