Blueberries in Your Backyard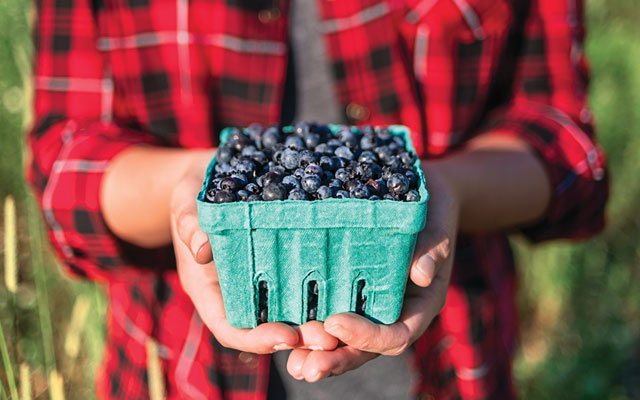 Well, you might not have blueberry plants right in your own yard, but there's definitely somewhere close by in Rhode Island to pick them. From Smithfield to Warwick to North Kingstown, local farms offer a bounty of these plump berries, which have been linked to better heart health, improved memory function, and a reduced risk of certain cancers.
Ready to get out your pail? Farm Fresh Rhode Island, a nonprofit helping to grow our local food system, has put together a list of farms where you can pick your own. After you get home with blue-stained fingers, try these delicious recipes from Farm Fresh Rhode Island.
Blueberry Yogurt Muffins
Servings: 8 small muffins
1 cup flour
¼ teaspoon salt
¼ teaspoon baking powder
¼ teaspoon baking soda
1 egg
2 tablespoons milk
½ cup honey
½ cup vanilla yogurt
½ cup fresh or frozen blueberries 
Preheat oven to 350ºF. In a large mixing bowl, stir all dry ingredients: flour, salt, baking powder, and baking soda. In a small mixing bowl, mix together egg, milk, and honey.
Combine all ingredients together except the yogurt and blueberries.
When all ingredients are mixed, gradually fold the yogurt and blueberries into mixture.
Chef's note: Try not to over mix. Over mixing the batter makes a muffin that doesn't rise. Spoon batter into paper muffin cups in a muffin pan and bake for 20-22 minutes or until a toothpick inserted near the center comes out clean.
Nutrition: 147 calories, 1 g fat, 22 mg cholesterol, 134 mg sodium, 32 g carbohydrates
Purple blueberry slushy
Servings: 4 (8 oz. servings)
2 cups blueberries
1 cup grapes
½ cup grape juice
3 ice cubes
Add all ingredients to the blender and blend until smooth. Enjoy!
Nutrition: 69 calories, .4 g fat, 0 mg cholesterol, 3 mg sodium, 17 g carbohydrates, very high in vitamins C and B6 and manganese
Jammin' Blueberry Jam
Servings: 8
2 cups blueberries
¼ cup water
1 cup orange juice
¾ cup sugar
3 tablespoons cornstarch
¼ cup cold water
½ teaspoon vanilla extract
⅛ teaspoon ground cinnamon
In a saucepan over medium heat, combine the blueberries, ¼ cup water, orange juice, and sugar. Stir gently, and bring to a boil. In a cup or small bowl, mix together the cornstarch and ¼ cup cold water. Gently stir the cornstarch mixture into the blueberries so as not to mash the berries. Simmer gently until thick enough to coat the back of a metal spoon, 3 to 4 minutes. Remove from heat and stir in the vanilla extract and cinnamon. Thin with water if it is too thick for your liking. Please store jam in a clean jar for up to a week.
Chef's note: To create a wild berry sauce, add raspberries and strawberries when adding blueberries. Can be used on savory dishes and game or in baked sweets, and it's especially great as a syrup substitute for waffles and pancakes.
Nutrition: 117 calories, .2 g fat, 0 mg cholesterol, 1 mg sodium, 30 g carbohydrates, very high in vitamins C and B6
Savory Blueberry Chutney
Servings: 4
½ onion, chopped              
1 garlic clove, finely chopped                        
1 cup fresh blueberries                       
½ lemon, zested and juiced
1 tablespoon honey
1 tablespoon ground ginger
¼ teaspoon cinnamon
Salt to taste
Heat a non-stick skillet over medium heat; cook and stir onion and garlic in the hot skillet until fragrant and onion is slightly softened, 5 to 10 minutes. Stir blueberries into onion mixture and cook for 2 to 3 minutes.
Add lemon zest, lemon juice, honey, ginger, cinnamon, and salt to blueberry mixture. Cook and stir until chutney is thickened, 10 to 15 minutes. Refrigerate until chilled, at least 30 minutes. Serve cold.
Nutrition: 48 calories, 0 g fat, 0 mg cholesterol, 40 mg sodium, 12 g carbohydrates
Berry juice
Servings: 2 cups (16 oz.)
½ cup raspberries
½ cup blueberries
½ cup blackberries
½ cup strawberries
1 medium banana
¼ cup yogurt
Freeze all berries overnight or use ½ cup ice. Put all ingredients in a blender. Blend until smooth.
Nutrition: 138 calories, 1 g fat, 2 mg cholesterol, 23 mg sodium, 31 g carbohydrates, very high in vitamin C