Mediterranean Couscous Salad With Chickpeas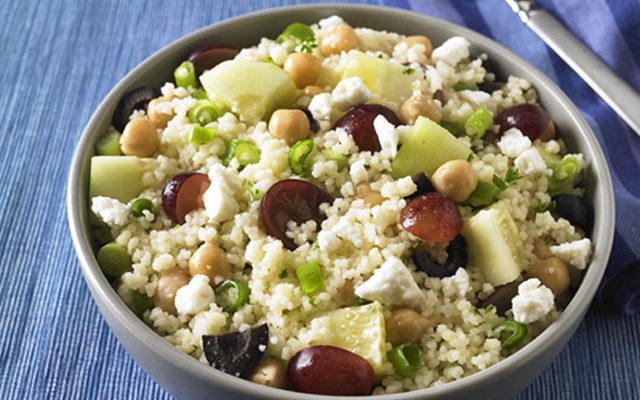 Ingredients
1¾ cups water
1 cup whole-wheat couscous
2 medium cucumbers (cut into quarters)
1½ cups green or purple grapes (halved)
3 green onions
15.5 oz. canned, low-sodium chickpeas (also called garbanzo beans), drained, rinsed
1/3 cup chopped, pit removed black or Kalamata olives
2 Tbsp. dried parsley or ½ cup chopped, fresh parsley
1½ Tbsp. olive oil
1 Tbsp. lemon juice
4 Tbsp. reduced-fat feta cheese crumbles (divided)
Directions
Using the microwave or a teapot, bring 1¼ cups water to a boil. Add into a medium-sized heatproof container, along with couscous. Stir together and cover with a lid or very tightly with plastic wrap. Let couscous sit for 10 minutes. Meanwhile, peel cucumbers. Quarter each cucumber and then cut into 1-inch chunks. Add into a large bowl. If desired, halve the grapes or add them whole into the bowl. Chop the scallions, about ¼ cup, and add into the bowl. When couscous is finished, use a fork to fluff it and then add into the bowl along with the olives, chickpeas, parsley, oil, and lemon juice. Use a large spoon or spatula to stir to combine. Serve, topping each portion with 1 tablespoon feta cheese.
Nutritional info
466 calories, 9.9 g total fat (1.6 g saturated fat), 3 mg cholesterol, 271 mg sodium, 82 g carbohydrates
---
Source
Recipe copyright © 2016 American Heart Association. This recipe is brought to you by the American Heart Association's Simple Cooking with Heart® Program.