Spring Stir-Fry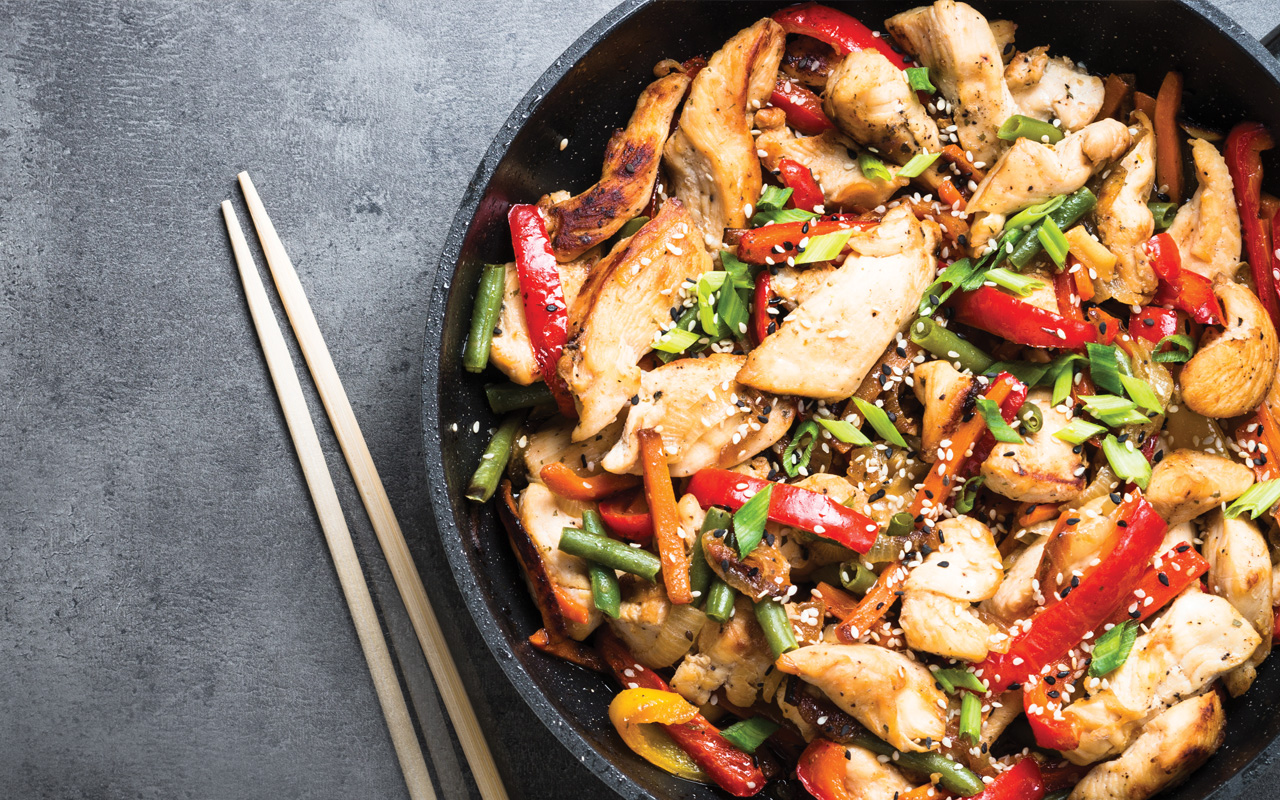 Ingredients
Sauce
2 tsp. cornstarch
¼ cup cold water
¾ cup sodium-free chicken broth
1 Tbsp. low-sodium soy sauce
2 to 3 tsp. honey or sugar
1 Tbsp. sesame oil
½ tsp. garlic powder
1 to 2 dashes cayenne pepper (optional)

Stir-fry
2 Tbsp. olive oil
¾ lb. boneless, skinless chicken breast,
1-in. pieces
1 cup asparagus, 1-in. pieces
¾ cup yellow/red/orange peppers,
1-in. pieces
¾ cup snow peas or sugar snap peas
2 to 3 tsp. minced/grated ginger
2 to 3 garlic cloves, sliced
1 cup baby bok choy, coarsely chopped
½ cup scallions, sliced
Directions
For the stir-fry sauce, whisk together cornstarch and water in a medium-sized bowl. Add remaining sauce ingredients. Set aside.
Add 2 Tbsp. olive oil to a large skillet or wok and heat over medium-high heat. Add chicken to skillet. Cook for 3 to 5 minutes.
Add asparagus, peppers, and peas; cook for 2 to 3 minutes. Stir often. Add ginger and garlic, and cook for 2 to 3 minutes.
Whisk or stir sauce and pour over chicken and vegetables and stir gently to combine. Add chopped bok choy. Cook until just wilted, 2 to 3 minutes.
Bring to a simmer. Stir until thickened. If sauce becomes too thick, add a small amount of chicken broth or water. Serve with brown rice, rice noodles, spiralized vegetables, or cauliflower rice. Garnish with sliced scallions.
Nutritional info
251 calories, 13g total fat (2g saturated fat), 54mg cholesterol, 294mg sodium, 14g total carbohydrate, 22g protein
---
Notes
You can substitute the chicken for tofu (¾ lb.) or shrimp (½ lb). Prefer different veggies? Mushrooms, broccoli, carrots, or cauliflower also work well in this recipe.
---