Stuffed Peppers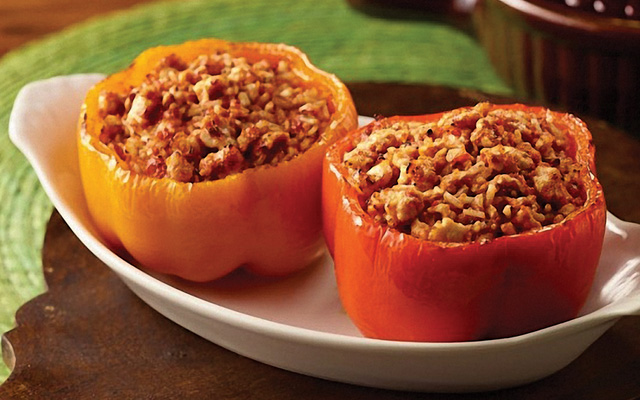 Ingredients
4 bell peppers (any color)
¾ lb. lean, ground turkey
½ medium onion (chopped)
½ cup uncooked brown rice
14.5 oz. canned, no-salt-added, diced tomatoes
1 clove fresh, minced garlic (or 1 tsp. garlic minced from jar)
1 tsp. reduced-sodium Italian seasoning (lowest sodium available)
¼ tsp. crushed red pepper flakes (for spiciness – optional)
8 oz. canned, no-salt-added tomato sauce
Directions
Preheat oven to 350 degrees. Cook rice to package instructions (omitting salt). While the rice is cooking, in skillet over medium heat, brown the turkey. Add the onion and cook for 3 minutes more (until onion becomes translucent).
Wash the bell peppers and remove the tops, seeds, and membranes. Set peppers in a 9x9 baking dish or line them up in a loaf pan, so they stand upright.
In a medium mixing bowl, mix turkey, rice, tomato, garlic, Italian seasoning, and pepper. Spoon into each pepper. Spoon tomato sauce evenly over the top of the 4 peppers. Bake 1 hour in the oven, until peppers are tender.
Nutritional info
252 calories, 1.5 g total fat (.5 g saturated fat), 53 mg cholesterol, 68 mg sodium, 34 g total carbohydrate, 26 g protein
---
Source
©Copyright 2020 American Heart Association, Inc., a 501(c)(3) not-for-profit. All rights reserved. Unauthorized use prohibited.