Zucchini Lasagna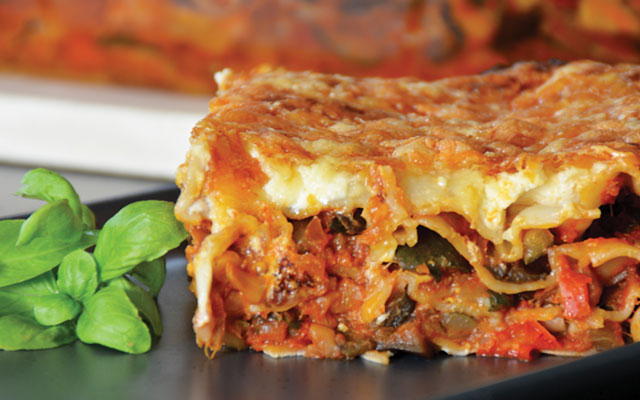 Ingredients
Nonstick cooking spray
3/4 cup part-skim grated mozzarella cheese, divided
1/4 cup grated Parmesan cheese, divided
1.5 cups fat-free, low-sodium cottage cheese
1/2 lb. cooked lasagna noodles, cooked in unsalted water
2.5 cups low-sodium tomato sauce
2 tsp. dried basil
2 tsp. dried oregano
1/4 cup chopped onion
1 clove garlic, minced
1/8 tsp. ground black pepper
1.5 cups sliced zucchini
Directions
Preheat oven to 350 °F. Lightly coat a 9×13-inch baking dish with cooking spray. In a small bowl, combine cup mozzarella cheese and 1 Tbsp. Parmesan cheese. Set aside.
In a medium bowl, mix remaining mozzarella and Parmesan cheeses with cottage cheese. Set aside.
Combine the tomato sauce with the basil, oregano, onion, garlic, and black pepper, and spread a thin layer in the bottom of the dish. Add a third of the noodles in a single layer. Spread half of the cottage cheese mixture on top. Add a layer of zucchini.
Repeat layering: Add a thin coating of sauce. Top with noodles, sauce, and reserved cheese mixture. Cover with aluminum foil. Bake for 30 to 40 minutes.
Nutritional info
200 calories, 5 g total fat (3 g saturated fat), 12 mg cholesterol, 165 mg sodium, 24 g total carbohydrate, 15 g protein
---
Source
National Heart, Lung, and Blood Institute