Expecting a Baby? Expect Even More BCBSRI Benefits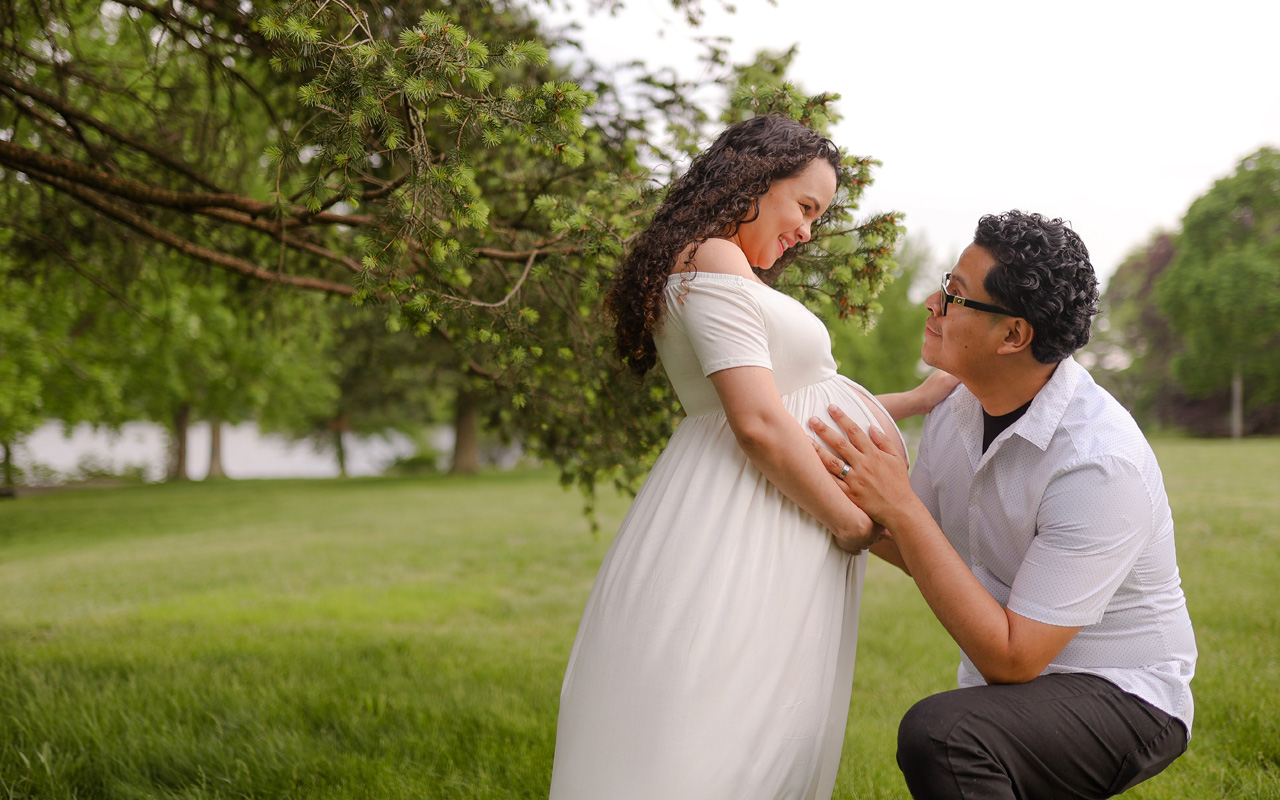 "This is my first pregnancy," Nelitza Velasquez said, "and I want to do everything I can to make sure I'm healthy and the baby is healthy." So when nurse Dyan Dealy called her about participating in the BCBSRI Maternal Care Management program, Nelitza said yes. 
"I didn't know about the program until Dyan called. I liked the idea of having someone else on my team, another person to check in with about how things are going. And I liked that it was already included with my Blue Cross plan." 
What to expect from care management
A nurse for more than 40 years, Dyan started her career in maternal health. "My children are 30 and 32, and I remember everything like it was yesterday. I want to help empower people to have the pregnancy and birth that they want. I ask a lot of questions about their physical and mental health, and I also encourage them to ask a lot of questions—of me and of their doctor or midwife." 
The Maternal Care Management Program is designed to help reduce the risk of premature births, low birth weights, and pregnancy-related complications. Nelitza and Dyan have regular check-ins over the phone, talking about tests and vaccines that are needed during pregnancy and what's safe in terms of diet and exercise. 
"Dyan also explained what was covered under my Blue Cross plan," said Nelitza, "such as breast pumps, an extra dental cleaning, and doula services. I already had a doula when I started the Blue Cross program, but Dyan explained how to get reimbursed for the doula's services."
The difference a doula can make
"I learned about doula services a few years ago because I knew someone who became one," said Nelitza. "I knew having a doula meant an extra support person for you and your partner, and that the risk for postpartum depression can be lower. It felt more holistic, which is what I wanted. I talked to my husband about getting one, then I found out it was covered through Blue Cross. That was perfect."
Dyan said that many people aren't familiar with the role of a doula. While doulas don't provide medical care, they can provide emotional, physical, and educational support to someone who is expecting or has recently given birth. They can:
Answer questions about birthing options so you can make informed decisions.
Provide physical support during labor through massage and breathing and relaxation techniques, as well as be a source of continuous comfort and encouragement.
Communicate with the medical staff during labor if you are unable to or uncomfortable doing so.
Ensure your birthing partner knows how to support you—and feels supported as well.
Members of fully insured BCBSRI health plans are eligible for reimbursement for doula services up to $1,500. (Find more details on doula coverage.) 
"I looked up doulas in Rhode Island, and then chose our doula after we did an introductory session online. I really vibed with her. Her practice has three doulas who work together, so if your labor is very long, there is someone else who can take over. She even recommended a midwife because my Ob/Gyn no longer delivered babies. The midwife was very kind, and it's great that she and the doula will work together during the birth."
How to find support
Nelitza is the program partnership and engagement coordinator at Big Brothers Big Sisters of Rhode Island, and she's already let a few coworkers know about the Maternal Care Management Program and the doula coverage. "They thought it was pretty awesome that we had that coverage as part of our plan," she said. 
The Maternal Care Management Program is offered at no additional cost under your BCBSRI health plan and includes:
Monthly check-ins with a BCBSRI nurse up to 36 weeks, then check-ins every two weeks until two weeks after the birth
Monthly check-ins with a BCBSRI nurse after the birth, up until six months
Help managing health conditions
Mental health support
Information about your benefits and resources in the community
A labor and delivery kit, including a massage ball
"I'm here to offer both knowledge and emotional reassurance," said Dyan. "The most rewarding part of my job is having a member say, 'I'm so glad you called.'" If you're interested in enrolling or learning more about the program, please call (401) 459-2273. You can also find more information on our maternal health page.
Making Pregnancy and Childbirth Safer
The Maternal Care Management Program and doula coverage are two ways BCBSRI is helping to address the crisis in maternal health, which is affecting our country and our state:
The United States is the most dangerous developed country in which to have a baby—especially for women of color. 
Rhode Island ranked 8th in the nation for severe maternal morbidity,1 which includes unexpected outcomes of labor and delivery that result in significant short- or long-term health consequences.2 A heart attack, heart failure, a blood infection, or hysterectomy are all examples of severe maternal morbitiy.3
In our state, Black and Hispanic Rhode Islanders and those who are uninsured experience the highest rate of severe maternal morbidity.1
Everyone deserves the best pregnancy and childbirth care available, regardless of their age, race, ethnicity, or zip code. Read more about our maternal health efforts in our 2022 Mission Report.
Photo of Nelitza and Christian Velasquez taken by Madilacie Photography