How to Prevent a Kitchen Fire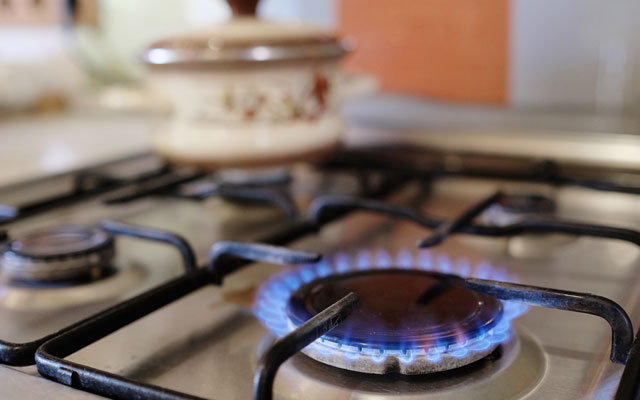 Whether you're making a grilled cheese or roasting a turkey, be careful around the stove. U.S. fire departments respond to over 170,000 fires each year related to cooking equipment, making cooking the leading cause of home fires. These six tips can help you stay safe:
Check the safety equipment.
Make sure there is a smoke alarm in or near your kitchen, and test it once a month to make sure the batteries are working. Keep a multipurpose ABC-rated fire extinguisher in your kitchen and be sure you know how to use it.
Don't leave the scene.
Unattended cooking causes nearly 90 percent of all kitchen fires. If you're frying, grilling, or broiling food, don't leave the kitchen even for a minute. If you're cooking foods for a longer time—such as simmering, baking, or roasting—set a kitchen timer and pop in the kitchen often. Never leave the house when your oven is on.
Wear clothes close.
If your clothes are long and loose, they can easily catch fire on your stove burners. Wear short sleeves or roll up your sleeves before cooking. If you have long hair, tie it back as well.
Make it free and clean.
If an item can catch fire, move it away from your stove. That includes towels, potholders, wooden utensils, food boxes, and curtains. Also, clean your stovetop, burners, and oven often to prevent grease buildup.
Keep kids and pets at a distance.
Kids should stay at least three feet away from the stove for their own safety. Pets should be away from cooking surfaces and countertops so they don't get burned or push items on to the burners.
Don't cook and drink.
Cooking takes your full attention, so don't fire up the stove if you've been drinking, or if you are tired or taking medication that can make you sleepy.
If you have a cooking fire
Just get out! When you leave, close the door behind you to help contain the fire.
Call 9-1-1 or the local emergency number after you leave.
If you try to fight the fire, be sure others are getting out and you have a clear way out.
Keep a lid nearby when you're cooking to smother small grease fires. Smother the fire by sliding the lid over the pan and turn off the stovetop. Leave the pan covered until it is completely cooled.
For an oven fire, turn off the heat and keep the door closed.
Source: National Fire Protection Association