How to Talk So Kids Will Listen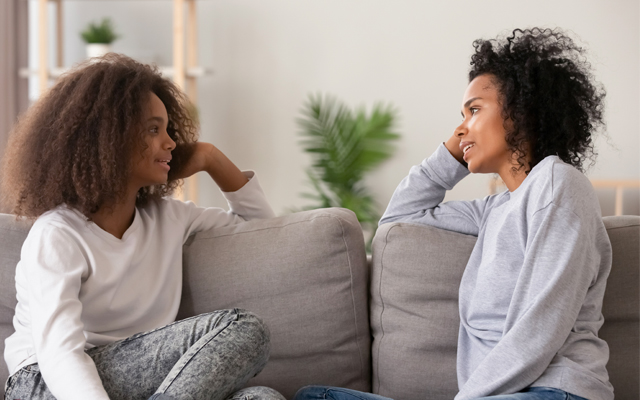 Margaret Paccione, PhD, is the director of clinical innovation at Bradley Hospital. Dr. Paccione has more than 35 years of experience in supervisory and administrative positions as well as extensive experience with trauma patients and managing trauma-related service environments. We have adapted this article from one that Dr. Paccione wrote for the Lifespan Living newsletter.
It's normal for teenagers to feel rebellious or make something into a bigger issue than what seems reasonable to you. These years are difficult for your child because they leave behind the ease and security of childhood to explore the freedoms of adulthood. They won't always know how to talk with you, but they need you to listen.
Teenagers make mistakes simply because they lack experience. It's like starting a new job. You don't know exactly how things are done at the new place, the work itself may be tougher and unfamiliar to you, and you're unsure whether you'll live up to expectations.
10 tips for communicating with teens
If there seems to be a breakdown in communication with your teenager, try these ideas:
Make time for talking. Establish a point in your day when your child knows you are available.
Try to relate to your child's perspective. For example, "Nothing's bothering me" can really mean, "I want to try and handle this on my own." "I hate you" might simply mean "I'm angry." As an adult, you have more responsibility to make communication work.
Don't piggyback complaints when you're upset or angry. If your son is late getting home, don't criticize the friends he hangs out with. It's easier to deal with one issue at a time.
Don't make rules that you won't enforce or threats that you won't keep. It damages your credibility and can encourage your child to test your limits.
Try not to be judgmental, defensive, accusing or negative when your child is trying either to tell you something or to answer a question. Don't interrupt, correct grammar or do two things at once. These are all signals that you aren't really interested.
Show concern for your child's feelings. This can go a long way toward earning trust.
Pay attention to behaviors as well as words. Sometimes the words sound okay, but something else doesn't seem right. Trust your instinct. It might take extra effort to draw your child out.
Try not to say things you don't really mean, even in the heat of an argument. You can't take words back.
Try to balance your concern with faith in your child. The years you invested in your relationship haven't been lost on them.
Give a copy of this to your child. It might help your child see things a little more the way you do.