Opioids: What You Need to Know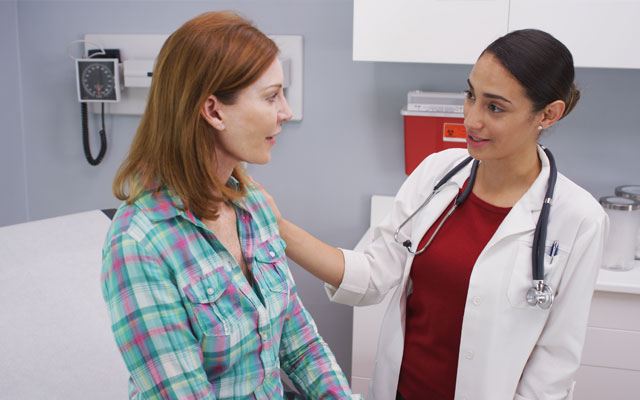 Find opioid use disorder programs
With so much about opioids in the news, you may have questions about their use and how to stay safe. We hope these answers can help.
What are opioids?
This class of drugs includes:
Heroin
Fentanyl
Prescription pain relievers such as oxycodone (OxyContin®), hydrocodone (Vicodin®), codeine, and morphine
Should I be worried if my doctor prescribes opioids?
"If your doctor prescribes opioids after surgery or an injury, it's because they think you need them," said Linda Hurley, President and CEO of CODAC Behavioral Healthcare, a Rhode Island opioid use disorder treatment center. "Talk with your doctor about whether opioids are right for you."
Ask your doctor these questions:
Could non-opioid alternatives relieve my pain?
What if I have a family history of drug use?
How long should I take this medication?
See more questions to ask your doctor in "What to Ask Your Doctor Before Taking Opioids: A Checklist" from the U.S. Food & Drug Administration. 
I have pills I don't need anymore. What should I do?
You can help keep opioids out of the hands of others by taking them to a drop-off location. Linda said, "CVS has drop-off boxes, and you can bring opioids to almost all police departments in the state, no questions asked." Find locations at preventoverdoseri.org.
How do I talk to my kids about opioids? 
"The way we treat medicines is somewhat casual," said Linda. "We need to create a family cultures where we treat medications with respect—and keep them secured." You can find resources for talking with your kids at the Partnership for a Drug-Free Kids. 
BCBSRI recently supported PBS and the Rhode Island Student Assistance Services in creating and distributing a curriculum focused on opioid use prevention. You can download the lesson plans for middle school students and high school students.
How do I help a family member struggling with opioids?
For immediate help and treatment, call the 24-hour, statewide Behavioral Health Link at (401) 414-LINK. (In an emergency, always call 911.) You can also contact the BCBSRI Behavioral Health Line at 1-800-274-2958 for access to the resources and services a family member may need. Support for family members is available at resthelps.org.
"It's important to accept that we can offer, but we can't make anyone do anything," Linda said. "That doesn't mean give up—it means be persistent and show love in a nonjudgmental way, always making sure that the safety of you, your family, and the person you care about come first."
Linda adds that saying "Why are you doing this to yourself?" or "Why are you doing this to me?" doesn't work. "They know this is hurting you and themselves, and they carry shame and burden about that. No one wants to struggle with this disease."
What is Narcan®? Should I carry it?
Narcan is a brand name for naloxone, which is designed to reverse an opioid overdose. "If you're worried about someone, I recommend carrying naloxone," said Linda. "It saves lives." You can get naloxone at many pharmacies without needing your doctor to write a prescription. Without any insurance, Narcan would cost about $150 for a box of two. BCBSRI covers Narcan and generic naloxone with no prior approval needed, and your cost will vary depending on your plan.
Find opioid use disorder programs
You can participate in substance use disorder programs in the BCBSRI network without approval in advance. Your provider can recommend a treatment plan that will work best for you. It may include the programs and services described below, which are covered by your BCBSRI plan. 
Your treatment plan may include:
Office visits 
Intensive outpatient programs, typically three days per week, three to four hours per day 
Partial hospitalization programs, typically five days per week, five hours per day 
Inpatient care, 24/7 care in a hospital setting, typically lasting a few days
Residential care, typically a short-term stay in a residential setting close to a member's home
You can find more information about your coverage on bcbsri.com:
You can also contact the BCBSRI Behavioral Health Line at 1-800-274-2958 and see the specialized programs below.
Specialized programs
In addition to your traditional benefits, BCBSRI has partnered with community providers to offer the specialized programs described below. 
HealthPath* 
BCBSRI members receive services from their healthcare team, which may include a case manager, psychiatrist, therapist, and other healthcare professionals. Services can be received at HealthPath offices, the member's home, or over the phone. This program is offered in collaboration with BCBSRI and Care New England. 
Peer Recovery Coaching*
Through this program, members work with a peer recovery coach—a person who is in recovery from an alcohol or drug use disorder and has been through extensive training to provide support to others struggling with recovery. Search for "peer support services" in the Find a Doctor tool.
Mindful Teen Program*
Offered at Bradley Hospital, this program provides teens with the necessary skills to manage their emotions, tolerate distress, and deal with stress more effectively. It also gives teens the chance to practice these skills in their lives outside of treatment. 
If you are experiencing thoughts of suicide, a mental health or substance use crisis, or any other kind of emotional distress, call or text 988 for quick access to counseling help.
*This program is not available to members with BlueCHiP for Medicare or Plan 65. 
Coverage and cost sharing varies depending on the plan. To see your plan's specific coverage and costs, please refer to the Subscriber Agreement or contact the number on your member ID card.