Planning Ahead: A Quick Checklist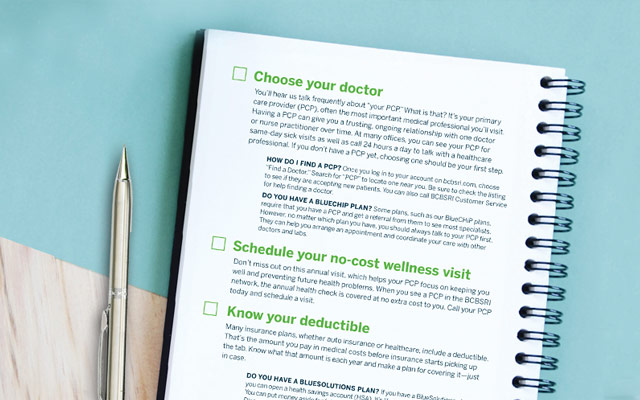 Are you ready? Whether you have health insurance for the first time or you've been covered for decades, it's smart to take a few steps now to make using your plan easier when you need it.
Choose your doctor
You'll hear us talk frequently about "your PCP." What is that? It's your primary care provider (PCP), often the most important medical professional you'll visit. Having a PCP can give you a trusting, ongoing relationship with one health professional over time. At many offices, you can see your PCP for same-day sick visits as well as call 24 hours a day to talk with a healthcare professional. If you don't have a PCP yet, choosing one should be your first step. 
HOW DO I FIND A PCP? Once you log in to your account on mybcbsri.com, choose "Find a Doctor." Search for "PCP" to locate one near you. Be sure to check the listing to see if they are accepting new patients. You can also call BCBSRI Customer Service for help finding a doctor.
DO YOU HAVE A BLUECHIP PLAN? Some plans, such as our BlueCHiP plans, require that you have a PCP and get a referral from them to see most specialists. However, no matter which plan you have, you should always talk to your PCP first. They can help you arrange an appointment and coordinate your care with other doctors and labs.
Schedule your no-cost wellness visit
Don't miss out on this annual visit, which helps your PCP focus on keeping you well and preventing future health problems. When you see a PCP in the BCBSRI network, the annual health check is covered at no extra cost to you. Call your PCP today and schedule a visit. 
Know your deductible
Many insurance plans, whether auto insurance or healthcare, include a deductible. That's the amount you pay in medical costs before insurance starts picking up the tab. Know what that amount is each year and make a plan for covering it—just in case. 
DO YOU HAVE A QUALIFIED HIGH-DEDUCTIBLE PLAN? If you have a qualified high-deductible plan such as BlueSolutions, you can open a health savings account (HSA). It's like a 401(k) for medical expenses. You can put money aside for future expenses, and you can save on taxes by doing so. 
Sign up for personalized mobile messages
Receive convenient messages about your health and health plan on your mobile device, including benefit updates, money-saving tips, and reminders about tests. To get started, text "BCBSRI" to 73529 or call 1-844-779-8820.