See a Doctor Wherever You Are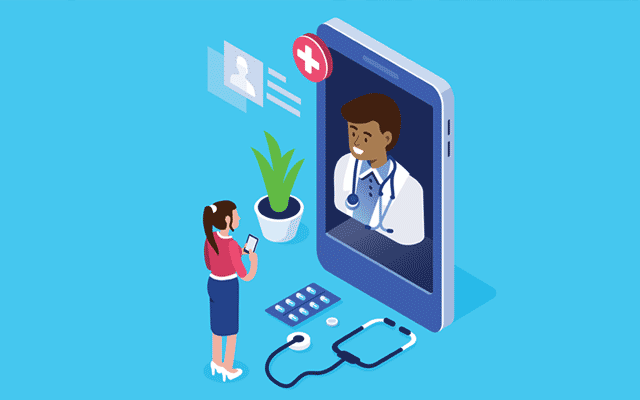 The last time Jennifer DeMello was sick, she talked to a doctor right from her bedroom. 
She was using the BCBSRI Doctors Online app, which lets her video chat with a doctor. "It's so easy," said Jennifer. "I downloaded the app on my phone, but you can also use it on your computer. I added my medical history and my Blue Cross information once, then it's ready whenever I need it."
Jennifer learned about Doctors Online during an employee benefits presentation at Meeting Street, where she works with children with developmental disabilities. "Sometimes trying to get to my doctor's office is inconvenient when I'm working," she said. "Now I can talk to a doctor at my home or my work. I've even used it when traveling."
The appointments often take only 10 minutes from start to finish. Jennifer said, "You can see which doctors are available, and read their bio and background. The doctors ask the same questions that I answer at a regular office visit—reviewing the medical history I entered and asking about my symptoms. And if I need a prescription, they send it electronically to my local pharmacy."
After each visit, Jennifer receives an email with information about her visit, which she shares with her primary care provider. "He thought it was great I was using the service," she said.
Jennifer has used the app four or five times already. "I've told coworkers at Meeting Street about it, and now they're using it too," she said.
The doctor is always in
Like Jennifer, you may be able to take advantage of Doctors Online through your BCBSRI health plan. You can talk to a board-certified doctor from your home or work or wherever you're traveling—365 days a year, 24 hours a day.
Through Doctors Online, you and your family members on your plan (including your children) can receive care for common, non-emergency health issues, including:
Cold and flu symptoms
Allergies
Bronchitis and other respiratory infections
Urinary tract infections
Skin irritations
Sinus problems
Migraines
You can talk with someone right away or make an appointment, whichever works best for you.
In the future, you may even be able to video chat with a doctor who works in your local primary care practice through the Doctors Online app. In the meantime, BCBSRI is working with local providers to offer telemedicine services.
How to sign up
Creating an account is easy.
Download the BCBSRI Drs. Online app1 from the Apple App Store or Google Play2 or visit drs-online.com.
Have your BCBSRI member ID information handy.
Provide your contact information.
Set up your user name and password.
When should I use Doctors Online?
If you have a health issue, it's always best to see or call your primary care provider. However, Doctors Online may be a good option if:
You can't fit an office visit into your schedule.
You can't get a convenient doctor's office visit.
You feel too sick to leave where you are.
You have children, and you can't leave them at home.
You're traveling or away at school and don't have access to your doctor.
For minor health issues, Doctors Online can be less costly than an urgent care or emergency room visit.
Doctors Online $
Urgent Care Center $$
Emergency Room $$$-$$$$
1In the case of an emergency, you should always call 911. Doctors Online is not intended to replace these services and should not be used in those circumstances. Doctors Online is a telemedicine service provided by American Well®, an independent company that administers Doctors Online on behalf of BCBSRI.
2Apple and the Apple logo are trademarks of Apple Inc., registered in the U.S. and other countries. App Store is a service mark of Apple Inc. Google Play is a trademark of Google Inc.