What to Know About Back Pain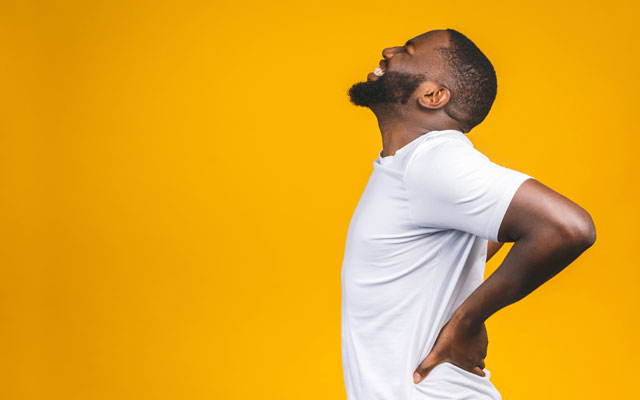 Are you working while hunched over a laptop? Exercising less? Feeling more stressed? These are just a few things that can lead to back pain—and that might sound familiar after this past year.
"Back pain is the number one cause of disability," said Dr. Donald Murphy, chiropractor and primary spine practitioner of Spine Care Partners and clinical assistant professor at Alpert Medical School of Brown University. "But often that disability can be avoided. Too many people end up in chronic pain because surgery or another treatment actually made their back feel worse."
Since most back pain goes away with a simple approach, Dr. Murphy said treatment that focuses on self-care is best:
Ice and heat can help.
There is no strict rule about ice or heat when it comes to back pain. Try one or the other (or alternate) and see what works for you.
Walk and stretch if you can.
Bed rest for more than a day or two is actually not recommended, as gentle movement is important for feeling better.
X-rays, MRIs, and other imaging tests often are not needed.
Studies show that people who get an imaging test for back pain do not get better faster. And sometimes they feel worse than people who took over-the-counter pain medicine and followed simple steps, like walking, to help their pain. These tests can also lead to unnecessary surgery or treatments.1
Start with your primary care provider (PCP).
If your back doesn't start improving in a few days or a week, talk to your PCP. See your PCP right away if your pain is from an injury or you also have weakness, weight loss, fever, trouble urinating, or leg numbness.2
Coordinated efforts to ease back pain
In 2020, BCBSRI and Spine Care Partners3 offered education on spine care to PCPs affiliated with Lifespan (Lifespan Physician Group and Community Physician Partners). Those PCPs may refer patients with back pain to physical therapists and chiropractors who've also completed the training, and they can coordinate your care.
 
1Choosing Wisely
2Medline Plus
3Spine Care Partners is an independent company, contracted by BCBSRI to provide healthcare training services.