Cooking with Fresh Herbs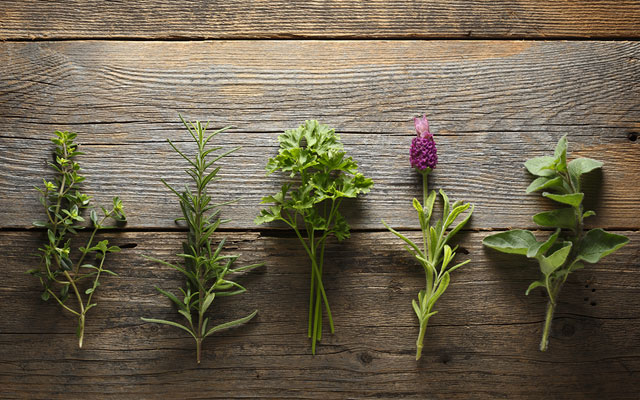 Want to boost flavor without adding extra fat or calories? The secret is to use fresh herbs.
To help you get started, we've created recipes using fresh herbs that are easy to find at your local grocery store. Other ways to add fresh herbs to dishes include garnishing with chives or scallions, sautéing basil leaves to add to pasta, or tossing a variety of herbs into fish or chicken dishes.
For longevity, store herbs wrapped in a damp paper towel in the crisper drawer of the fridge. By keeping herbs available either in the refrigerator or via home-grown potted plants, a resource for flavor is always available.
Orzo with Vegetables, Blistered Cherry Tomatoes, and Goat Cheese
Makes 4 servings
You can use any assortment of veggies in this orzo pasta dish, which can be served both hot, cold, or at room temperature. Replace spinach with arugula or sugar snap peas with chopped asparagus.
½ lb. orzo
½ lb. sugar snap peas
1 ½ cups shelled, thawed edamame
3 Tbsp. olive oil, divided
2 pints cherry or grape tomatoes, rinsed and dried
1 (5-oz. container) fresh baby spinach
Zest of 1 lemon, plus 1 Tbsp. fresh lemon juice
Kosher salt and ground pepper to taste
½ cup mint leaves
Goat cheese, as needed
Bring a medium pot of salted water to a boil over high heat. Add orzo and cook 8 minutes. Stir in sugar snap peas and edamame; let water return to a boil and then cook 2 additional minutes.
Drain in a colander, rinse briefly with cold water to stop the vegetables from cooking, and then transfer to a large serving bowl.
Meanwhile, in a large sauté pan, warm 1 Tbsp. olive oil over high heat. Add cherry/grape tomatoes; let sit in hot pan 2 minutes without moving to blister.
Using a spatula, flip tomatoes to other side, and let sit another 2 minutes. Stir in baby spinach until wilted, just a couple minutes.
Remove from the heat and stir into the reserved serving bowl with orzo. Add remaining 2 Tbsp. olive oil, lemon zest, lemon juice, salt, pepper, and mint leaves. Stir to combine.
Top with goat cheese pieces and serve.
​To complete the meal: Serve with a fruit salad, like sliced peaches, blueberries, and basil slices.
Baked Flounder and Roasted Potatoes with Chimichurri
Makes 4 servings
The stems of herbs have an incredible amount of flavor, so make sure to add them along with the leaves of both the cilantro and parsley to create the herb-centric chimichurri sauce
1.5 lbs. small red potatoes
4 ½ Tbsp. olive oil, divided
Kosher salt and ground pepper to taste
4 (6 to 8-oz.) flounder fillets
1 small clove garlic
1 ½ cups parsley stems and leaves
½ cup cilantro stems and leaves
3 Tbsp. red wine vinegar
2 Tbsp. water
¼ tsp. red hot chile flakes (optional)
Preheat the oven to 425 degrees F. Cut the potatoes in half or quarters, so all potato pieces are the same size. Place on a large baking sheet (or 2 smaller baking sheets) and drizzle with 1½ Tbsp. oil, salt, and pepper.
Use a spatula to mix together. Place in preheated oven, roasting in the oven until brown and crispy, around 1 hour, making sure to flip potatoes with a spatula every 15 minutes.
Toward the end of the cooking time, add flounder to a baking pan coated with cooking spray. Season with salt and pepper, and place in the 425 degrees F oven until fish is cooked to 145 degrees F, about 8-10 minutes.
Meanwhile, in the bowl of a food processor, add garlic, parsley, cilantro, vinegar, remaining 3 Tbsp. olive oil, (optional) chile flakes, salt, and pepper. Pulse about 30 seconds until pureed.
Spoon chimichurri over fish and serve with the potatoes.
To complete the meal: Serve with a green salad.
Start an indoor herb garden
Spring is a great time to start a window garden, and you can do it year-round—even in Rhode Island! Homegrown herbs are tastier than their store-bought counterparts and will save you money. Here's how to choose the right herbs for your space:
Basil - Requires little care and grows very quickly
Rosemary - Benefits from total sunshine and a lot of water
Parsley - Easy to grow as long as you let the soil dry out between waterings
Dill - Needs full sun as well as deep soil
Mint - Requires a lot of space and must be trimmed repeatedly
Chives - Easy to grow without much sunlight
Cilantro and sage - Trickier to grow unless you have a green thumb