13 Perks of Your Plan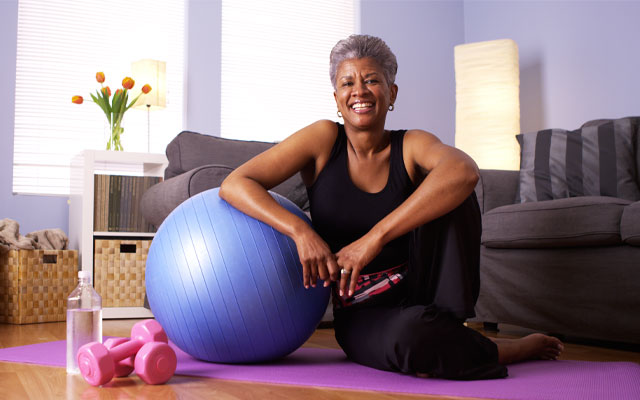 With your plan, you get more than medical coverage! Take advantage of these perks1 of being a BCBSRI Medicare Advantage member.
Stay healthy
1. Free exercise and healthy living classes 
Members can sign up for free fitness and healthy living classes at Your Blue StoreSM locations. You also can take free online fitness classes through the BCBSRI Facebook page every weekday at 10:00 a.m. and 2:00 p.m. If you can't make the live classes, you can view the videos anytime. All fitness levels are welcome in our classes.2
2. A whole team to take care of your health
Patient-centered medical homes may feature extended hours, classes, and no-cost visits with a nurse and pharmacist. To find a patient-centered medical home (PCMH), call the Medicare Concierge team at 1-800-267-0439 (TTY: 711).
3. Help with ongoing health conditions
Our nurses, dietitians, and social workers can help you control health conditions such as diabetes, asthma, and heart disease. They work with you and your doctor to help you reach your health goals and make the most of your benefits. You can work with our team over the phone, via video chat, or at Your Blue Store locations. There's no cost—it's included as part of your plan. To learn more or schedule an appointment, please call 1-844-563-0892 or email care@bcbsri.org. 
4. $0 Doctors Online visits
Access quality care anytime—for $0. Download the BCBSRI Drs. Online3 app on the App Store or Google Play4 or visit drs-online.com to talk to a board-certified doctor or therapist using your smartphone, tablet, or computer.
Save money
5. $0 for a national gym benefit and home fitness kit
Select from a variety of home fitness kits and more than 16,500 fitness centers across the country. Choose from more than 45 local fitness centers5, including most YMCA and Anytime Fitness locations in Rhode Island. Find a location at silverandfit.com.
6. $0 copay for routine hearing and vision
Pay $0 for routine office hearing and vision visits and exams.
7. Valuable hearing aid benefits
You'll get up to two hearing aids for a $200-$1,675 copay per ear ($0 for BlueRI for Duals (HMO D-SNP)), which includes a hearing aid fitting and evaluation. We'll even throw in a 3-year supply of batteries! Learn more by visiting nationshearing.com/BCBSRI.
Make it easy
8. Face-to-face service at our stores
Need help with your health plan? Stop by a convenient Your Blue Store location.
10. $0 rides to your doctor
Get up to 24 one-way trips6 (50 for BlueRI for Duals (HMO D-SNP)) to or from your doctors, as well as places in your community that support your health and well-being, like senior centers, libraries, and Your Blue Stores. We'll even coordinate your trips. Each trip has a 20-mile limit (but, hey, it's Rhode Island). Schedule a ride.
11. $0 meal deliveries
Get up to a week's worth of meals delivered to your door up to four times a year when you get home from an inpatient hospital stay.
12. Personalized messages on your phone
Receive secure messages about your health and health plan, including benefit updates, money-saving tips, and reminders about tests. Text "BCBSRI" to 73529 or call 1-844-779-8820.
13. Access your health plan information easily online
Whether you're at the doctor's office, on the road, or at home, your myBCBSRI account lets you quickly check benefits, review claims, and go paperless—on the new app or at myBCBSRI.com. Download the myBCBSRI app4 and start using it with your current myBCBSRI website login.  
Never used myBCBSRI? You can register your account right in the app. Just have your BCBSRI member ID handy.
14. Help for caregivers
Are you caring for a loved one, or is someone helping you? Depending on your plan7, you may be eligible to get $50/year to give to a caregiver who provides you with basic household and/or transportation assistance. Plus, discover resources available through your BlueCHiP or HealthMate for Medicare plan and in the community. Visit our site for caregivers.
1Check your EOC for details and specific eligibility requirements.
2Not all exercises are suitable for everyone and any exercise program could result in injury. Always consult with your physician before beginning an exercise program, especially if you have an existing health condition.
3In the case of an emergency, you should always call 911. Doctors Online is not intended to replace these services and should not be used in those circumstances. Doctors Online is a telemedicine service provided by American Well®, an independent company that administers Doctors Online on behalf of BCBSRI.
4Standard mobile phone carrier and data usage charges apply. The downloading and use of the app is subject to the terms and conditions of the app and the online stores from which it is downloaded. Apple is a trademark of Apple Inc. and App Store is a service mark of Apple Inc. Google Play is a trademark of Google Inc.
5The Silver&Fit program is provided by American Specialty Health Fitness, Inc., a subsidiary of American Specialty Health Incorporated (ASH). Silver&Fit is a trademark of ASH and used with permission herein. Participating facilities and fitness chains may vary by location and are subject to change.
6Available within our service area for HMO D-SNP, HMO & HMO-POS plans only/PPO plan has out-of-service benefit of 50% coinsurance/trip. Any trip over 20 miles will count as additional trips and will be subtracted from your 24-trip total (50 for BlueRI for Duals (HMO D-SNP)). Rides are provided to your PCP, specialists, and select community locations.
7Caregiver reimbursement is available for members with BlueCHiP for Medicare Value (HMO-POS), BlueCHiP for Medicare Extra (HMO-POS), or HealthMate for Medicare (PPO) plans.
Our Your Blue Store locations follow state and federal guidelines during emergencies. Please check bcbsri.com/yourbluestore for updates.
This information is not a complete description of benefits. Call the Medicare Concierge team at 1-800-267-0439 (TTY: 711) for more information.
Y0146_2022Perks