7 Great Ways to Use Your 2022 Benefits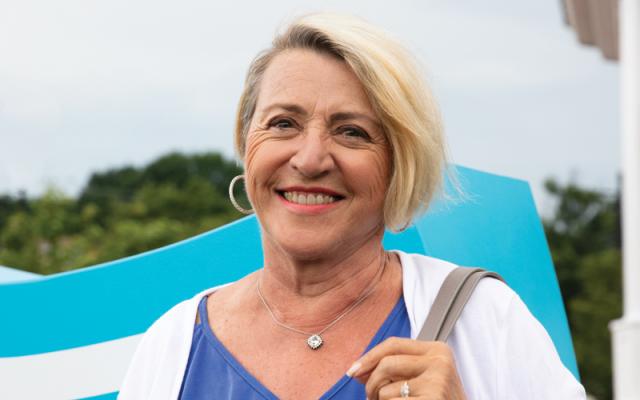 Having a village helps keep us healthy—and we're proud to be part of yours.
Over the last year, we've delivered groceries, brought fitness classes to local parks, and took to the road to deliver services on Your Blue Bus. To continue helping you protect your health in 2022, we've brought back a whole lot of Medicare benefits for $0—plus new and enhanced ones.
These benefits are about more than doctors visits. They help you be active. Stay independent. Feel connected. All the things that matter most.
Here are some of the highlights:
1. New! You can get hands-on help at home for $0.
Ever wish you had someone to help with running errands? Or to make dinner? Or even just to take a walk with? Now you can be connected with "Papa Pals" who can provide:
Companionship, such as chatting, playing board games, watching a movie, or taking a walk
Household help with light cleaning, meal prep, organizing, and pet care
Transportation to doctors' appointments, errands, and grocery/pharmacy shopping
Technology assistance with setting up computers, smartphones, tablets, and apps
2. Your pharmacy savings can really add up, especially with the enhanced Insulin Savings Program.
The Insulin Savings Program now includes all insulins within our formulary. Just like last year, you'll only pay a low $35 monthly insulin copay that remains consistent through the coverage gap.1 You can also save money on medications by:
Taking advantage of lower costs at preferred pharmacies such as CVS Pharmacy®, Stop & Shop, Walmart, and PillPack as well as independent pharmacies.2
Paying a $0 copay for a 90-day supply of many generic drugs and having them delivered by our new mail order pharmacy, ExpressScripts.3
Getting a debit card loaded with $25-$200/quarter, depending on your plan, to buy a wide range of over-the-counter health-related items online or at some of your favorite stores like Walmart, Dollar General, Family Dollar, Rite Aid, Walgreens, and CVS Pharmacy®.4
3. Your gym can be at home, in Rhode Island, in Florida, in California—all for $0.
With a $0 national gym benefit, Silver&Fit®,5 you can now select one home fitness kit as well as over 16,500 fitness centers across the country. Choose from more than 45 local fitness centers, including most of the YMCA and Anytime Fitness locations in RI. Find a Silver&Fit location.
4. It's convenient to have all your benefits in one plan: dental, hearing, and vision.
Quality dental coverage is included in most BCBSRI plans, and you'll pay $0 for routine hearing and vision. Plus, you get a $100-$200 allowance (depending on your plan) if you need glasses or vision hardware.
5. See a Doctors Online doctor or therapist from wherever you are for $0.
Download the BCBSRI Drs. Online app or visit drs-online.com to talk to a top-rated, board-certified doctor or therapist from your smartphone, tablet, or computer.6 You can also access Doctors Online through your myBCBSRI account.
6. You can experience a different approach with Oak Street Health.
We've teamed up with Oak Street Health to make sure everyone has access to high-quality care in a comfortable, community setting. Here's what you can expect:
A dedicated care team
Telehealth visits from your own home
More time with your doctor
Transportation to and from your Oak Street Health appointments7
Telephone support 24/7
Take a virtual tour of Oak Street Health.
Exclusive benefits for our feature plans
BlueCHiP for Medicare Value, BlueCHiP for Medicare Extra, and HealthMate for Medicare (PPO) plans include the following benefits to support your wellness goals:
Acupuncture
Visit the acupuncturist and pay only $15/visit up to 12 times/year.
 
Caregiver reimbursement
Get $50/year to give to a caregiver who provides you with basic household and/or transportation assistance.
 
Wellness reimbursement
Use your funds toward your favorite healthy activities, like fitness classes, weight-loss programs, and sports lessons, as well as in-home fitness equipment.
Qualify for Medicare + Medicaid?
You could qualify for even more benefits. Our new BlueRI for Duals (HMO D-SNP) gives you more convenience, more extras, more zeros, and more care,8 including:
Monthly grocery benefit9 valued at over $50
Over-the-counter (OTC) benefit of $275/quarter to buy a wide range of health-related items
$200 wellness reimbursement to use toward your favorite healthy activities
Private ride service with up to 50 one-way rides10 to or from your doctors' appointments
Up to 2 hearing aids for $0. You also get a 3-year supply of batteries.
$3,000 dental benefit for $0
$300 allowance if you need glasses or vision hardware
$100/year to give to a caregiver who provides you with basic household and/or transportation assistance
To learn more, give us a call at (401) 459-5477 or 1-855-430-9293 (TTY: 711) or visit our BlueRI for Duals page.
Here to help
Call
Medicare Concierge team at (401) 277-2958 or 1-800-267-0439 (TTY: 711)
Come by
Your Blue StoreSM retail locations11
Cranston, East Providence, Lincoln, and Warwick
Click
bcbsri.com/medicare
Compare plans, get recommendations, and apply. You can also watch videos to learn about our benefits, schedule a one-on-one appointment, and sign up for an in-person or virtual meeting.
You must still pay your Part B premium.
1The Insulin Savings Program is not available to BlueCHiP for Medicare Core (HMO) members or those who qualify for a low income subsidy (LIS).
2For all plans except BlueCHiP for Medicare Core (HMO) and HealthMate for Medicare (PPO).
3Pay $0 copay for a 90-day supply of many generic drugs in Tiers 1 & 2. Your actual savings depend on the drugs you take. Call Express Scripts® Pharmacy at 1-833-599-0726 on or after December 1, 2021 to switch. Available with all plans except BlueCHiP for Medicare Core. Express Scripts® Pharmacy is a pharmacy that is contracted to provide mail pharmacy services to members of BCBSRI.
4Vendors current as of August 31, 2021.
5The Silver&Fit program is provided by American Specialty Health Fitness, Inc., a subsidiary of American Specialty Health Incorporated (ASH). Silver&Fit is a trademark of ASH and used with permission herein. The people in this piece are not Silver&Fit members. Participating facilities and fitness chains may vary by location and are subject to change.
6In the case of an emergency, you should always call 911. Doctors Online is not intended to replace these services and should not be used in those circumstances. Doctors Online is a telemedicine service provided by American Well®, an independent company that administers Doctors Online on behalf of BCBSRI.
7This benefit is separate from the rides benefit that comes with your BCBSRI plan.
8Refer to the BlueRI for Duals Evidence of Coverage (EOC) for a complete list of benefits.
9Available for members with qualifying chronic conditions.
10Available within our service area. Any trip over 20 miles will count as additional trips and will be subtracted from your 50 trip total.
11Your Blue Store locations follow state and federal guidelines during emergencies. Please check bcbsri.com/yourbluestore for information regarding fitness programming and store opening status.