8 Ways to Protect Your Health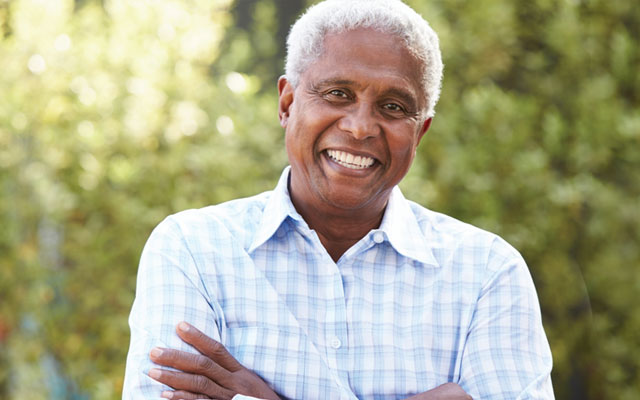 With the stress and challenges of the COVID-19 pandemic, it's more important than ever to take care of yourself. Make it easier with helpful tools and programs available through your BCBSRI Medicare Advantage plan.
1. Get the COVID-19 vaccine and booster.
$0 for the vaccine/booster
The best way to reduce the risk of COVID-19 is to get vaccinated or get a booster shot. You can make an appointment in Rhode Island at vaccinateri.org or outside of Rhode Island at vaccines.gov.
You can find more information about vaccine safety and distribution at the Rhode Island Department of Health site at covid.ri.gov as well as COVID-related benefit info at bcbsri.com/keepinformed.
2. Schedule an annual wellness visit.
$0 for this preventive visit
This visit helps you keep your health on the right track. Don't have a primary care provider (PCP)? Consider Oak Street Health, a network of primary care centers for adults on Medicare. They have four RI locations in collaboration with BCBSRI and offer the choice of in-person, phone, and video visits; a 24/7 support line; rides to and from appointments,1 and care plans to meet your health goals.
Visit bcbsri.com/touroakstreet for a virtual tour.
3. Get help with ongoing health issues.
$0 for clinically appropriate video/phone visits with your PCP and for help from a BCBSRI Care Coordinator
If diabetes, heart disease, and other health problems are not under control, they can lead to complications and even hospital stays. Talk to your PCP about how to best manage your health. You can also contact a BCBSRI Care Coordinator at 1-844-563-0892 or care@bcbsri.org for help achieving your health goals.
If you have diabetes, pay a low $35 monthly insulin copay that remains consistent through the coverage gap for all insulins in our formulary.2 To see if your insulin qualifies, check the 2022 Comprehensive Formulary.
4. Focus on your mental health.
$0 for phone/video visits with in-network psychologists and for therapy/psychiatry visits through Doctors Online3
Treatment can make a tremendous difference for issues such as depression, anxiety, or substance use disorder. For help finding a provider and other non-emergency issues, call the BCBSRI Behavioral Health Line at 1-800-274-2958. You can also download the BCBSRI Drs. Online app on the App Store or Google Play4 or visit drs-online.com.
5. Exercise for 30 minutes most days of the week.
$0 for Silver&Fit® national gym membership and a home fitness kit
Regular exercise lowers your risk for depression, heart disease, stroke, some cancers, diabetes, high blood pressure, and much more. The Centers for Disease Control and Prevention recommends spending two days each week on strength training, which can help with balance.
To learn more about Silver&Fit5 and to get your home fitness kit, visit silverandfit.com or call 1-888-797-8059 (TTY/TDD: 711).
You can also take live online exercise and mindfulness classes by joining the Your Blue StoreSM Studio Facebook Group. Work up a sweat and find your inner Zen every weekday at 10:00 a.m. and 2:00 p.m. If you can't make the live classes, you can view the videos anytime. We offer 10 different classes each week, and all fitness levels are welcome.6
6. Have important preventive screenings.
Often $0 when you see a provider in-network
Many diseases are "silent," meaning you'll have no symptoms until it has advanced and is harder to treat. Preventive screenings help find the disease early—and may be covered at no cost to you. Ask your doctor if you need the screenings below.
Breast cancer (ages 50-74)
Colon cancer (ages 45+)
7. Have your teeth cleaned twice a year.
$0 at in-network dentists if you have the dental coverage included in most Medicare Advantage plans 
Regular cleanings help prevent cavities, gum disease, or tooth loss. Gum disease may also worsen health problems such as diabetes and heart disease. 
To find a dentist, please log in to myBCBSRI.com.
8. Ask about routine office visits for hearing and vision.
$0 copay at in-network providers
Ask your doctor about having these important tests. And if you need lenses or frames, be sure to use your allowance. Considering hearing aids? You'll get up to two hearing aids for a $200–$1,675 copay per ear ($0 for BlueRI for Duals (HMO D-SNP)), which includes a hearing aid fitting and evaluation.
Learn more by calling NationsHearing at 1-866-708-1234 (TTY: 711) or visiting nationshearing.com/BCBSRI.
1This benefit is separate from the rides benefit that comes with your BCBSRI plan.
2Available for all insulins within our formulary. The Insulin Savings Program is not available to members who qualify for a low income subsidy (LIS) or members with the BlueCHiP for Medicare Core (HMO) plan.
3In the case of an emergency, you should always call 911. Doctors Online is not intended to replace these services and should not be used in those circumstances. Doctors Online is a telemedicine service provided by American Well®, an independent company that administers Doctors Online on behalf of BCBSRI.
4Apple and the Apple logo are trademarks of Apple Inc., registered in the U.S. and other countries. App Store is a service mark of Apple Inc. Google Play is a trademark of Google Inc.
5The Silver&Fit program is provided by American Specialty Health Fitness, Inc., a subsidiary of American Specialty Health Incorporated (ASH). Silver&Fit is a trademark of ASH and used with permission herein. Participating facilities and fitness chains may vary by location and are subject to change.
6Not all exercises are suitable for everyone, and any exercise program could result in injury. Always consult with your physician before beginning any exercise program, especially if you have any chronic or recurring condition, and/or if you are pregnant, nursing, or elderly.