For Irene, It's More Than a Store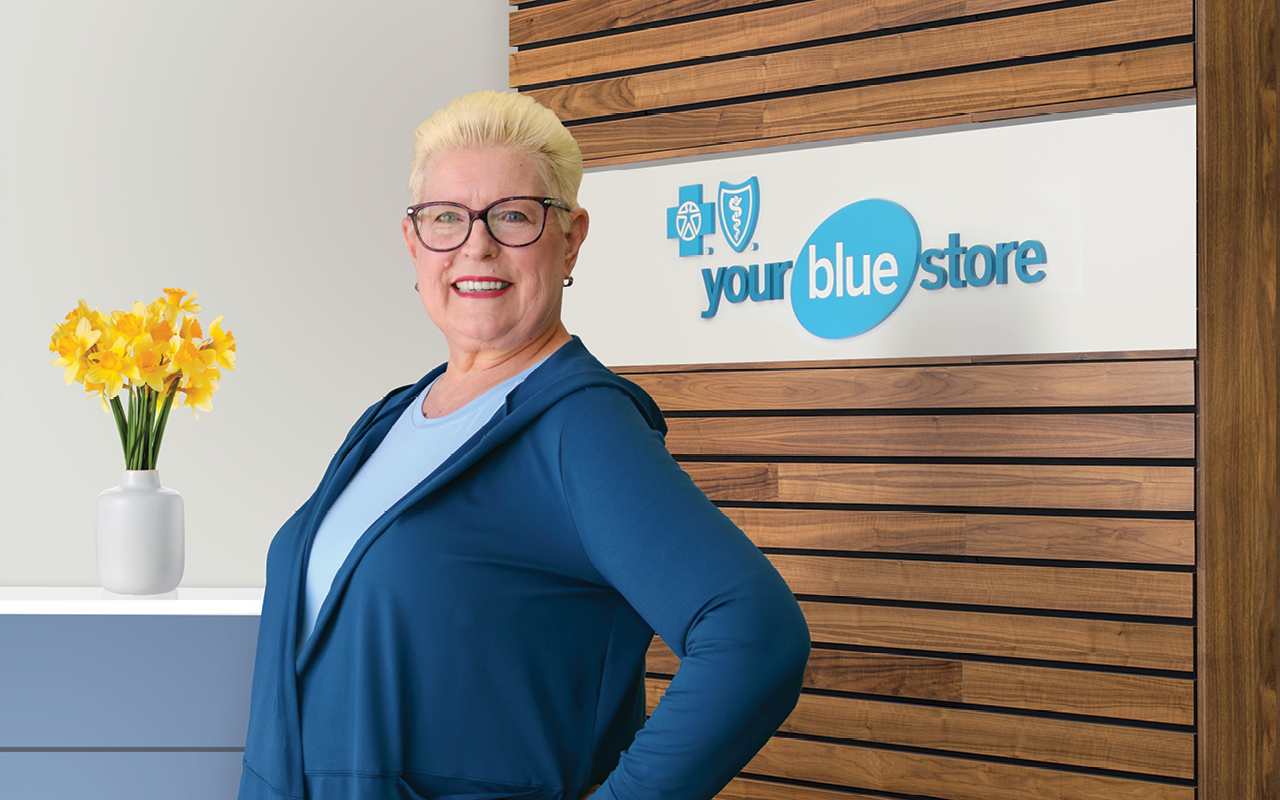 When Your Blue StoreSM in Lincoln started offering healthy living classes in person again, Irene Gambuto signed up for the entire series. "When I walked into the class on sleep, it was so wonderful to see rows of members there again," she said.
Between the healthy living classes and the fitness classes, Irene is at Your Blue Store five to six times a week. "Yoga and Pilates are my favorite and are great for balance issues. I also really enjoy Core and More and meditation," Irene said. "There's something for everyone, including chair yoga for people who have trouble getting on the floor."
She sees many of the same members at the classes and has become friends with them outside the store: "We may go to breakfast, to lunch, or to the Y. The pandemic hit seniors especially hard, and I'm happy to be back doing things again."
It's a place to be healthy
When Irene retired from Citizens Bank four years ago, she researched her options for a Medicare plan. "One of my relatives who was in nursing recommended Blue Cross over other available plans, so that's what I picked," she said. "I didn't know how important choosing a Blue Cross plan would be for my life."
Irene describes the free store classes as the "best thing ever"—helping her stay healthy, connected, and independent. "At the fall prevention class, I learned I had some risks in my home, including throw rugs and backless slippers. So I made some changes." Her favorite classes are the cooking demonstrations at the store. "We get samples and recipe cards, and I always try out the recipes myself at home. Those fill up fast though, so sign up early!"
Even during the height of the pandemic, Irene still took part in the classes, which are streamed live on Facebook. "I still take them virtually if the weather is bad. It's a nice option to have," she said.
It's a community
Ever since Irene started going to the Lincoln store, she felt right at home with her fellow members and the store employees. "When you get older, your days and your hours become more precious than ever. You don't want to spend them alone," Irene said. "In the classes, people talk about their concerns and personal lives, and you can see how their experience is similar to yours. It expands your life."
Whenever she has a question about her plan, she turns to the store employees for help—and always finds what she needs. "They are a wonderful community who really love what they do," Irene said. "To me, Blue Cross represents optimism, support, and community—and that's what I always find in the store employees."
How to use your plan like Irene
Irene makes the most of the free classes and no-cost benefits available with her plan. Here's how you can too.
Sign up for a fitness class
Between the four Your Blue Store1 locations—in Cranston, East Providence, Lincoln, and Warwick—dozens of fitness classes are offered each week2. Sign up for a class.
Take a free healthy living class
Every quarter, you can take classes that help you learn how to improve your physical and mental well-being. Sign up for a class.
Visit the store with questions
Have a question about your plan? Want to see what benefits you could be using? Stop by one of the stores—and feel free to bring a family member or friend. Find a convenient location.
Use your $0 national gym membership
The Silver&Fit network3 includes 16,500+ fitness centers as well as 45+ local fitness centers. You can go to any gym in the network—or a different gym every day of the week. Irene goes to YouFit and the MacColl YMCA. Find a location.
Spend your wellness reimbursement
Certain BCBSRI Medicare Advantage plans4 include a wellness reimbursement that can be used for in-home fitness equipment, sports lessons, weight-loss programs, and more. Irene uses hers for the Citizens Pell Bridge Run as well as yoga classes outside the store. Download the form.
1Your Blue Store locations follow state and federal guidelines during emergencies. Please check bcbsri.com/yourbluestore for information regarding fitness programming and store opening status. 
2Not all exercises are suitable for everyone and any exercise program could result in injury. Always consult with your physician before beginning an exercise program, especially if you have an existing health condition. 
3The Silver&Fit program is provided by American Specialty Health Fitness, Inc., a subsidiary of American Specialty Health Incorporated (ASH). Silver&Fit is a trademark of ASH and used with permission herein. Participating facilities and fitness chains may vary by location and are subject to change.
4Available with BlueCHiP for Medicare Value (HMO-POS), BlueCHiP for Medicare Extra (HMO-POS), HealthMate for Medicare (PPO), and BlueRI for Duals (HMO D-SNP).