4 Ways Your Benefits Help You Stay Connected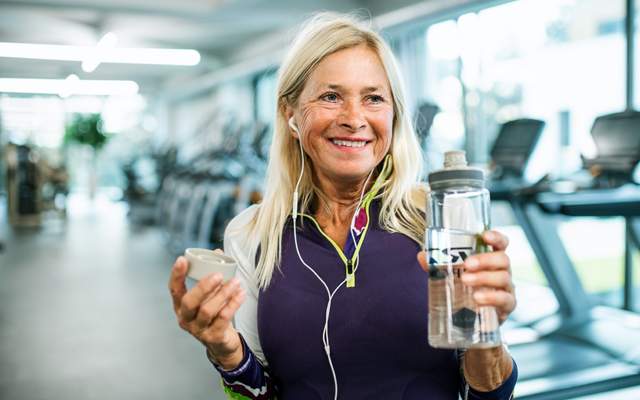 Early in the pandemic, Carol Huff started taking Your Blue StoreSM Studio fitness classes live on Facebook and described them as a "lifesaver to me and many others." 
A BCBSRI Medicare Advantage member, Carol said, "The instructor, Suann, offered support during a very scary time of isolation. I looked forward to her friendly and encouraging words every day. Thanks to her help, I lost 25 pounds and am physically in the best shape I've been in a long time." Those online classes were an important way to help our members during the pandemic—and they were so successful that we're continuing them alongside in-person classes.
Here's a look at how your benefits can help you stay connected (at no cost)
1. Take fitness and healthy living classes.
Members can sign up for free fitness and healthy living classes at our four Your Blue Store locations. You also can take free online fitness classes through the BCBSRI Facebook page every weekday at 10:00 a.m. and 2:00 p.m. If you can't make the live classes, you can view the videos anytime. All fitness levels are welcome in our classes.1
2. Get a $0 ride to a place that supports your well-being.
You probably know that you can get $0 rides to your doctor, but did you realize you can also use that benefit to go to libraries, senior centers, and Your Blue Store? You get up to 24 one-way trips.2 Each trip has a 20-mile limit (but, hey, it's Rhode Island). Schedule a ride by visiting bcbsri.kaizenhealth.org or calling 1-833-972-2774. 
3. Visit any fitness center in the Silver&Fit network for $0.
Want to join a gym close to your house? And also meet a friend for a class at a different gym? It's easy with Silver&Fit. You can go to any fitness center in their network, which includes 14,000+ fitness centers nationwide as well as 45+ local fitness centers. Find a location at silverandfit.com.
4. Use your wellness reimbursement for fun activities.
Whether you want to try something new or resume a favorite pastime, take advantage of the wellness reimbursement available with certain plans.3 It can be used for sports lessons (maybe golf or tennis), road races, walking challenges, and in-person or online fitness classes. Download the Wellness Reimbursement Form at bcbsri.com/medicare/member.
1Not all exercises are suitable for everyone and any exercise program could result in injury. Always consult with your physician before beginning an exercise program, especially if you have an existing health condition. 2Available within our service area for HMO & HMO-POS plans only/PPO plan has out-of-service-area benefit of 50% coinsurance/trip. Any trip over 20 miles will count as additional trips and will be subtracted from your 24-trip total. Rides are provided to your PCP, specialists, and select community locations. 3Available with BlueCHiP for Medicare Value (HMO-POS), BlueCHiP for Medicare Extra (HMO-POS), and HealthMate for Medicare (PPO).
Your Blue Store locations follow state and federal guidelines during emergencies. Please visit bcbsri.com/yourbluestore for the latest information.