16 Fun Ways to Keep Your Family Active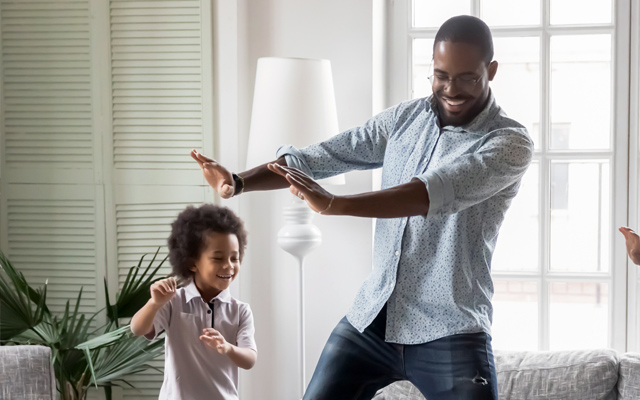 Staying active is important to helping your family stay healthy, calm, and upbeat. These tips offer ways—some simple, some creative—to keep your family moving, and will provide some much needed fun too. 
1. Go for walk or jog.
If you can, getting outside every day is a great idea. Explore different routes around your neighborhood or visit local parks and trails to keep things interesting. 
2. Have a dance party.
You can play dance-based video games or just turn on music and start moving. Give everyone a chance to play DJ.
3. Give yoga a go.
Yoga can have lots of great benefits for kids and adults—from improved strength and balance to reduced anxiety and stress.1 Try kid-friendly resources such as gonoodle.com and cosmickids.com.
4. Track your steps.
If you have one or more fitness trackers, set a goal for each day—maybe 7,000 or 10,000 steps. You and your spouse can even challenge each other with BCBSRI's wellness app, powered by Virgin Pulse2. Download the Virgin Pulse app from the Apple App Store or Google Play,3 then choose Blue Cross & Blue Shield of Rhode Island as your sponsor. Connect your fitness device with the app.
5. Play recess games.
Ask your child to teach you some of the typical games they play or check the game library created by the nonprofit Playworks.
6. Make it old school with hula hoops and jump ropes.
These are a terrific cardio workout for kids and former kids. You can also draw a hopscotch game on the sidewalk with chalk.
7. Play backyard games.
Badminton, croquet, baseball, ring toss, even just throwing a ball around—all the traditional favorites are fun no matter what your skill level is.
8. Hold a nature scavenger hunt.
Make a list of items to find, such as leaves, rocks, acorns, or items of a specific color. Then send kids off to find them in the yard or go for a walk together around the neighborhood. 
9. Take a photo walk.
Have kids look for interesting things to photograph. Later, they can make a photo digital album with their shots.
10. Build a fort.
Kids can turn anything into a fort—a large packing box, a low-hanging tree, or piles of snow. Constructing the fort is just as much fun as playing in it.
11. Make an obstacle course.
Lay out a few items to run or jump over, under, or through. It can be items you have on hand, such as hula hoops to jump in, blocks to run around, and a broom placed over two chairs to crawl under. See who can get through the fastest.
12. Do yard work.
Have your kids help you with raking, weeding, planting, or even active indoor chores like vacuuming.
13. Fly a kite.
If you have a kite around (one you hopefully don't need to untangle!), bring it out on the next windy day.
14. Hold fitness competitions.
A little friendly competition can help your family stay motivated. Have a push-up contest or see who can hold a squat the longest. Even the little ones might surprise you with their strength.
15. Keep up sports practice.
If your child isn't going to their usual sports practice, have them stick to their routine as much as they can. That might mean running drills in the backyard or practicing ballet poses. 
16. Make screen time an active time.
Screens don't always have to be a sedentary activity. Video games, apps, and websites can help kids and adults get moving. Common Sense Media offers age-based ratings for some options.
Not all exercises are suitable for everyone and any exercise program could result in injury. Always consult with your physician before beginning an exercise program, especially if you have an existing health condition.
1Harvard Medical School.
2Virgin Pulse® is an independent wellness company, contracted by BCBSRI to provide wellness services. Virgin Pulse is available to BCBSRI subscribers (the primary person on the BCBSRI health plan) and their enrolled spouses. Not all employers offer Virgin Pulse through their plan. Standard mobile phone carrier and data usage charges apply. The downloading and use of the Virgin Pulse mobile app is subject to the terms and conditions of the app and the online stores from which it is downloaded.
3Apple and the Apple logo are trademarks of Apple Inc., registered in the U.S. and other countries. App Store is a service mark of Apple Inc. Google Play is a trademark of Google Inc.