Baked Flounder and Roasted Potatoes with Chimichurri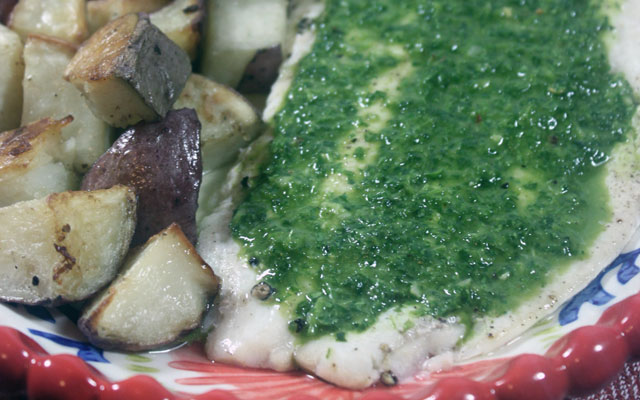 Ingredients
1.5 lbs. small red potatoes
4½ Tbsp. olive oil, divided
Kosher salt and ground pepper to taste
4 (6 to 8-oz.) flounder fillets
1 small clove garlic
1½ cups parsley stems and leaves
½ cup cilantro stems and leaves
3 Tbsp. red wine vinegar
2 Tbsp. water
¼ tsp. red hot chile flakes (optional)
Directions
Preheat the oven to 425 degrees. Cut the potatoes in half or quarters, so all potato pieces are the same size. Place on a large baking sheet (or 2 smaller baking sheets) and drizzle with 1½ Tbsp. oil, salt, and pepper.
Use a spatula to mix together. Place in preheated oven, roasting in the oven until brown and crispy, around 1 hour, making sure to flip potatoes with a spatula every 15 minutes.
Toward the end of the cooking time, add flounder to a baking pan coated with cooking spray. Season with salt and pepper, and place in the oven until fish is cooked to 145 degrees, about 8-10 minutes.
Meanwhile, in the bowl of a food processor, add garlic, parsley, cilantro, vinegar, remaining 3 Tbsp. olive oil, (optional) chile flakes, salt, and pepper. Pulse about 30 seconds until pureed.
Spoon chimichurri over fish and serve with the potatoes.
To complete the meal: Serve with a green salad.