Baked Fish with Rolled Oat Crust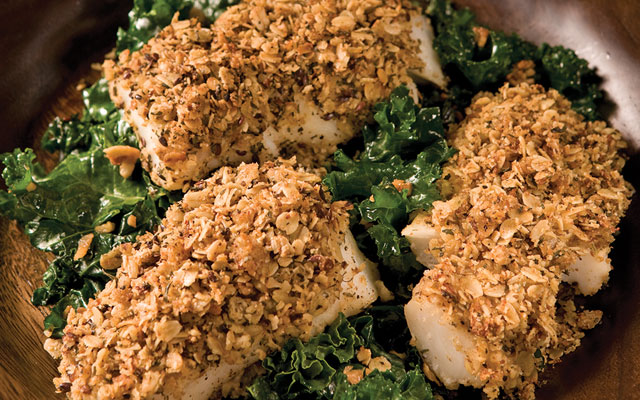 Ingredients
1-1½ lbs. white fish fillet such as cod, haddock, pollock
2 Tbsp. extra-virgin olive oil
2 Tbsp. onion, minced
1 Tbsp. dried parsley
1 tsp. dried basil
1 cup rolled oats, lightly ground
1 Tbsp. flax meal
1 Tbsp. whole wheat flour
1 tsp. salt
¼ tsp. pepper
Directions
Preheat oven to 350 degrees. Grease bottom of 9" x 13" baking dish.
Wash and pat dry fish fillets, salt and pepper both sides, and set in baking dish.
In a medium skillet, heat oil and sauté onion 2-3 minutes. Add parsley, basil, and oats and toss for 1-2 more minutes.
Turn off heat and stir in all other ingredients.
Put mixture on top of fish.
Bake for 20 minutes or until fish is cooked through and topping is lightly browned.