Black Bean and Sweet Potato Quesadillas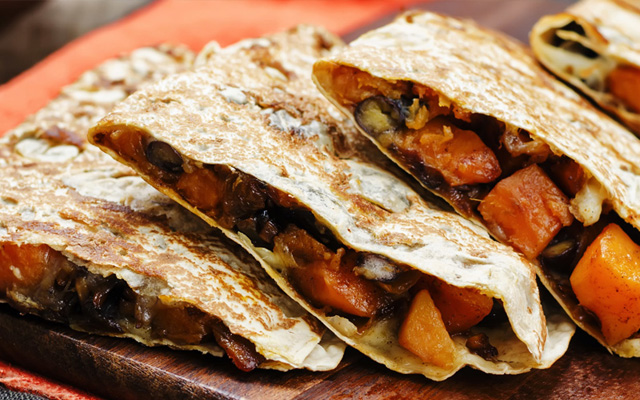 Ingredients
5 cups sweet potato, scrubbed and cubed
¼ tsp. salt
1 15.5 oz. can black beans, no salt added, drained and rinsed
6 Tbsp. mild salsa
6 oz. Monterey Jack cheese, grated
6 large whole-wheat tortillas
1 avocado, diced (optional)
Fresh lime wedges (optional)
Directions
To boil, place sweet potato chunks in pan. Cover with water and bring to a boil. Cover pot and simmer until tender, about 15 minutes. Drain pot, then mash sweet potatoes and combine with salt. 
To assemble quesadillas, spread mashed sweet potato over each tortilla. Over half of tortilla, add a layer of black beans, salsa, and cheese.
Fold tortillas in half and heat in a nonstick pan or griddle over medium heat until golden brown on each side, turning once. Keep quesadillas warm in the oven until ready to serve.
Cut in half and top with salsa, avocado, and a squeeze of fresh lime juice.
To complete the meal: Serve with a green salad or fresh corn.
Nutritional info
420 calories, 13.6 g total fat (2.3 g saturated fat), 4 mg cholesterol, 434 mg sodium, 65.7 total carbohydrates, 10.7 g protein
---
Notes
To save time, cook the sweet potatoes up to three days ahead. To adjust the level of spiciness, use hot salsa or jalapeño Jack cheese to suit your taste.
---