Jammin' Blueberry Jam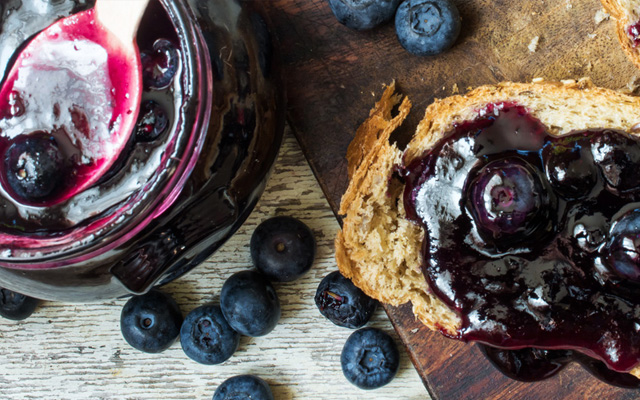 Ingredients
2 cups blueberries
¼ cup water
1 cup orange juice
¾ cup sugar
3 tablespoons cornstarch
¼ cup cold water
½ teaspoon vanilla extract
⅛ teaspoon ground cinnamon
Directions
In a saucepan over medium heat, combine the blueberries, ¼ cup water, orange juice, and sugar. Stir gently, and bring to a boil. In a cup or small bowl, mix together the cornstarch and ¼ cup cold water. Gently stir the cornstarch mixture into the blueberries so as not to mash the berries. Simmer gently until thick enough to coat the back of a metal spoon, 3 to 4 minutes. Remove from heat and stir in the vanilla extract and cinnamon. Thin with water if it is too thick for your liking. Please store jam in a clean jar for up to a week.
.
Nutritional info
117 calories, 0.2 g fat (0 g saturated fat), 0 mg cholesterol, 1 mg sodium, 30 g total carbohydrate, 0.5 g protein
---
Notes
To create a wild berry sauce, add raspberries and strawberries when adding blueberries. Can be used on savory dishes and game or in baked sweets, and it's especially great as a syrup substitute for waffles and pancakes.
---
Source
Farm Fresh Rhode Island