Pumpkin Pancakes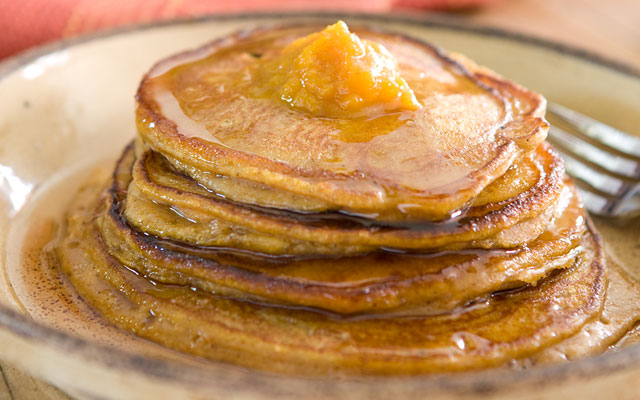 Ingredients
¾ cup all-purpose flour
½ cup whole-wheat flour
2 Tbsp. brown sugar
2 tsp. baking powder
½ tsp. salt
½ tsp. ground cinnamon
½ tsp. ground ginger
1/8 tsp. allspice
1 cup milk
½ cup pureed pumpkin
2 large eggs
2 Tbsp. vegetable oil, plus more for the pan
Maple syrup, powdered sugar, or topping of your choice
Directions
In a large bowl, stir together the flours, sugar, baking powder, salt, and spices.
In a medium bowl, whisk together the milk, pumpkin, eggs, and oil.
Stir the pumpkin mixture into the flour mixture just until combined.

Heat a nonstick skillet or griddle over medium heat and lightly brush with oil.

Pour about ¼ cup batter onto the pan for each pancake. Cook until bubbles form on the tops and the bottoms are browned, about 2 to 3 minutes.

Flip the pancakes and cook the other side until lightly browned.

Repeat with the remaining batter. Serve with the topping of your choice.