Pumpkin Ravioli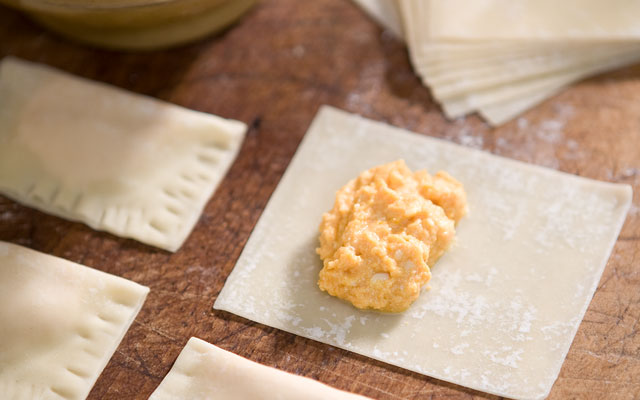 Ingredients
1 cup pureed pumpkin
¾ cup part-skim ricotta cheese
1/3 cup grated Parmesan cheese
2 tsp. brown sugar
½ tsp. salt
Pinch of nutmeg
1 package wonton wrappers
½ cup low-sodium chicken broth
¼ cup reduced-fat sour cream
Chopped parsley
Directions
In a medium bowl, stir together the pumpkin, cheese, sugar, salt, and nutmeg. Have a platter or baking sheet and a small bowl of water ready.
Lay one wonton wrapper out on a surface. Dip your finger or a pastry brush in the water and moisten the edge of one half of the wonton wrapper.
Place about one rounded teaspoon of pumpkin mixture in the middle of the wrapper, slightly closer to the moistened side. Fold the dry side over so that the edges meet and the wonton wrapper is folded in half. Pinch the edges to seal.
Repeat with the remaining wrappers and filling, laying the ravioli in a single layer on the platter or baking sheet.

Heat a large pot of water to boiling.

Carefully drop the ravioli into the water and cook for 3 minutes. Drain ravioli.

In the empty pot, stir together the broth and sour cream. Return the ravioli to the pot and gently stir to coat with the sauce. (Do this as quickly as possible to prevent the ravioli from sticking together.)

Sprinkle with the parsley and serve immediately.
Nutritional info
259 calories, 5.6 g total fat (3 g saturated fat), 24 mg cholesterol, 533 mg sodium, 38 g total carbohydrate, 12 g protein
---