14 Resources for Caregivers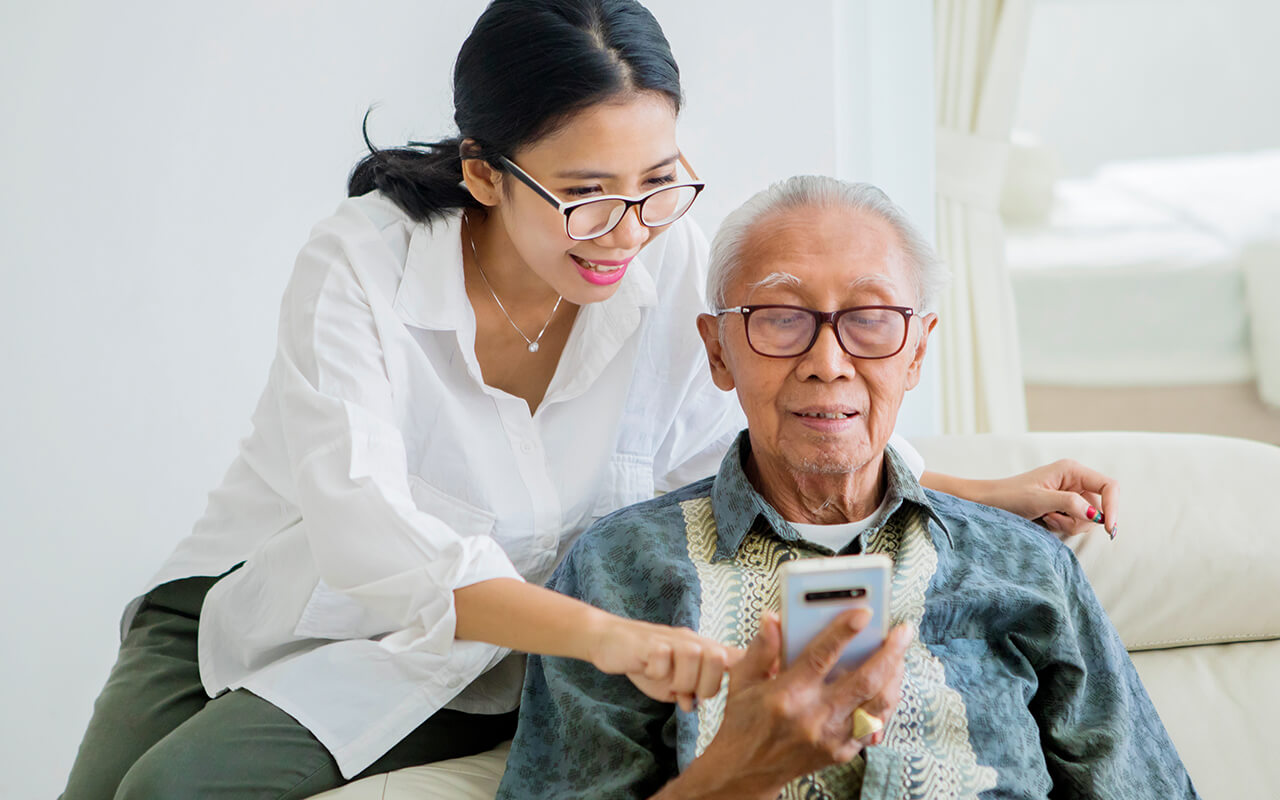 Are you helping an older family member or friend with daily activities, from cooking to cleaning to managing their health? As a caregiver, you want your loved one to enjoy the best life possible. And while there are resources that can help, you may not have the time or energy to seek them out. To make it easier, we put together a list that includes:
Information from national and local organizations 
Benefits available through your BCBSRI health plan
Benefits available if your loved one has a 5-Star BCBSRI Medicare Advantage plan, including $0 coverage for private rides, help with household chores, and prescription copays
These tips and resources can help make life better for you and the person you're caring for—and are available at low or no cost.
See what support may be available through their primary care provider's (PCP) office.
If your loved one has a complicated medical condition, their PCP's office may offer services that can help. Some offices are patient-centered medical homes (PCMH) and have a whole team to care for patients. This may include no-cost visits with a nurse for help with:
Developing an eating plan
Connecting you with community resources
Using medical devices at home that can provide valuable information to your doctor about your chronic medical conditions
No-cost visits with a pharmacist may also be available to help manage medications, costs, and side effects.
Resources
$0 PCP visits at patient-centered medical homes
If your loved one has a BCBSRI Medicare Advantage plan, call the BCBSRI Medicare Concierge team at 1-800-267-0439 (TTY: 711) for help finding a PCMH. All of our Medicare Advantage plans—including our HealthMate for Medicare (PPO) plan and our $0 premium BlueCHiP for Medicare Value (HMO-POS) plan—offer $0 primary care provider visits at PCMHs.
$0 BCBSRI nurse and/or dietitian sessions
If your loved one doesn't belong to a PCMH, the BCBSRI Care Management program offers similar services and is available at no additional cost if they have a BCBSRI health plan.1 (You can also use this service for your own health.) Sessions are available over the phone, via video, or in a Your Blue Store location. To get started, call 1-844-563-0892 or email care@bcbsri.org. 
Look for ways to divide the rides.
If your loved one no longer drives, it can be a challenge to take them everywhere they need to go. To give you more time and flexibility, ask family and friends for assistance (or take them up on their offers to help). You can also look for assistance through government programs and Medicare Advantage plans.
Resources
Reduced-cost public transportation
Reduced fares may be available for seniors through public transportation, including in Rhode Island. Through the Americans with Disabilities Act, people with disabilities that prevent the use of fixed-route buses can receive door-to-door service. Find out about the program in Rhode Island or locate your local public transit.
$0 private rides
If your loved one has our a BCBSRI Medicare Advantage plan, they can get up to 24 one-way rides2 to and from doctors appointments as well as places that support their health and well-being, such as senior centers, libraries, and Your Blue Store locations.
$0 mail order drugs
You can reduce trips to the pharmacy and may save money by encouraging your loved one to have their drugs delivered by mail. With a BCBSRI Medicare Advantage plan, they'll pay $0 for a 90-supply of many generic drugs.
Make the most of programs and benefits that pay.
Taking care of a family member or friend can be emotionally, physically, and financially stressful. While some programs help save you money, others may reimburse you for caregiving or help your loved one pay for household items. 
Resources
Government programs that pay caregivers 
Many government programs allow family members of veterans and people with disabilities to get paid for caring for them. Learn about these programs to see if you may qualify.
$50 caregiver reimbursement
If you are caring for someone who is enrolled in certain BCBSRI Medicare Advantage plans3, they can give you $50/year for help with basic household and/or transportation assistance.
Over-the-counter benefit of up to $100/quarter 
If your loved one has a BCBSRI Medicare Advantage plan, they can get up to $100/quarter to spend on household items—from cold remedies to blood pressure monitors to canes. 
Get help right at home.
It may be easier when help comes to the house. For information on what home care programs are available where you live as well as other programs for older adults, visit the Eldercare Locator website or call 1-800-677-1116. This public service of the Administration on Aging connects older Americans and their caregivers with local support services.
Resources
Support from your local agency on aging
Through The Point—which is part of the RI Office of Healthy Aging—you can talk with a specialist and get connected to resources for free. You can get help with applying for public and private programs. Visit The Point website or call (401) 462-4444. Live outside of Rhode Island? Enter your zip code on the Eldercare Locator website to find your local agency. You'll also find many caregiver resources on that page.
$0 help around the house 
If your loved one has a BCBSRI Medicare Advantage plan, they can get hands-on help right at home. Trained "helpers" can provide support with everyday household chores like changing light bulbs, connecting Wi-Fi, and running errands as well as companionship, such as taking a walk or playing a game.
$0 meal delivery after a hospital stay
After your loved one leaves the hospital, the last thing you want to worry about is cooking. With a BCBSRI Medicare Advantage plan, your loved one can get freshly made meals delivered for $0.4 
Take care of yourself.
Are you feeling worried and overwhelmed? Tired and stressed? It's easy to become so focused on the needs of your loved one that you don't realize the toll it's taking on you. Eating well, sleeping enough, and exercising can help you feel better and avoid burnout. 
Resources
$0 fitness class at Your Blue Store 
As a caregiver, you may not have time to get to a Your Blue Store location (or a gym). You can do classes on your own time by watching videos of these classes on the BCBSRI Facebook page. If you can fit in a live class, sign up for your favorite.
$0 in-network checkup 
Don't miss out on this annual visit, which helps your primary care provider focus on keeping you well and preventing future health problems. When you see a provider in the BCBSRI network, the checkup is covered at no additional cost to you. 
Take 5 for You
Five minutes can make a big difference in your health. That's the idea behind Take 5 for You—small steps that can help improve your mental, physical, and financial health. See them all at rhodeahead.com/take5.
Get 5-Star coverage
If your loved one doesn't have these types of benefits available through their Medicare plan, you may want to look for a Medicare Advantage plan that is rated 5-Stars by the Centers for Medicare & Medicaid Services (CMS). This rating measures the quality and performance of plans, making it easier to compare them. All of BCBSRI's 2022 and 2023 plans received a 5-Star rating from CMS. If your family member or friend lives in Rhode Island, they can enroll anytime. 
Our BCBSRI Medicare Advantage plans include HealthMate for Medicare (PPO) and our $0 premium BlueCHiP for Medicare Value (HMO-POS) plan. If your loved one qualifies for Medicare and Medicaid, we also have a plan especially for them—BlueRI for Duals—that offers even more benefits than those described above. Find out more at bcbsri.com/medicare.
If this list was helpful, you can find even more information and resources on our site for caregivers.
1Care Management is not available for Plan 65 members. 
2Available within our service area for HMO & HMO-POS plans only/PPO plan has out-of-service benefit of 50% coinsurance/trip. Any trip over 20 miles will count as additional trips and will be subtracted from your 24 trip total. Call 1-833-972-2774 or visit bcbsri.kaizenhealth.org to set up a ride.
3Available with BlueCHiP for Medicare Value (HMO-POS) and HealthMate for Medicare (PPO).
4Get a week's worth of meals delivered to your door up to four times a year when you get home from an inpatient hospital stay.
Every year, Medicare evaluates plans based on a 5-Star rating system. Blue Cross & Blue Shield of Rhode Island is an HMO and PPO plan with a Medicare contract. Enrollment in Blue Cross & Blue Shield of Rhode Island depends on contract renewal. An independent licensee of the Blue Cross and Blue Shield Association. 
Y0146_10-22TRACommweb_M