The Call That Changed Alda's Life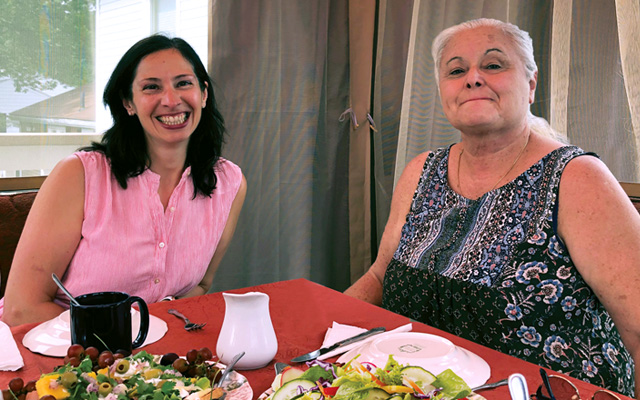 In October 2018, Alda Vital received a phone call from Helen Vieira at BCBSRI. Helen was asking Alda about scheduling a mammogram because she was overdue for this cancer screening.
"After talking with Helen, I told her I should probably schedule one," Alda said, "and Helen said she'd be happy to arrange the appointment for me."
"But the truth is that I would have waited two or three more years to get a mammogram done if Helen hadn't called. She did a great job persuading me to get my test scheduled. She is amazing," Alda said. "It felt like my mother was telling me that I had to make this appointment, in a very nice way."
"I call a lot of members to see if they'd like help scheduling a mammogram," said Helen, "and I clearly remember talking with Alda. I was really glad that she decided to get screened."
A life-saving mammogram
Alda's mammogram revealed that she had early stage breast cancer. Her doctor said Alda was very lucky to have had the test done when she did, since she was just at the beginning stages of cancer growth. If Alda had waited only one more year, she likely would have faced advanced cancer, harsher treatment, and worse odds of survival.
"I truly feel that if it wasn't for Helen, I would've been a disaster," Alda said.
After getting diagnosed, Alda felt compelled to thank the person on the phone who had convinced her to get the life-saving mammogram. "I couldn't remember Helen's name, so I called a random number at Blue Cross and asked how I could get in touch with the person that had called me and arranged for my mammogram. It took a few days, and then we connected."
When Alda got in touch with Helen, they realized that they are both from the same town and both trace their families back to the Azores. "I could've walked by her on the street or have seen her in the park without knowing it was her," said Alda.
Alda and Helen have one other thing in common—they are both breast cancer survivors. Early in 2020, Helen went for her routine mammogram and learned that she had early stage breast cancer, just as Alda had. She underwent surgery and radiation and is now cancer-free.
Not long ago, Alda had a chance to thank Helen in person when they met at Alda's house for lunch. Helen said, "It was wonderful to finally meet Alda. But I don't take any credit. She took it on herself to follow through and get her mammogram. I just opened the door for her to walk through."
Alda's message for anyone reluctant get a mammogram is simple: "Don't put it off for tomorrow. It could be too late. I recommend everyone of age, and I'll be 65 next month, gets a mammogram."
Scheduling a mammogram
The U.S. Preventive Services Task Force recommends that women between the ages of 50 and 74 get a mammogram every two years. Breast cancer, like many types of cancer, can have no noticeable symptoms and is generally much easier to treat when you catch it early. That's why regular screenings, such as mammograms, are so important.
With your BCBSRI plan, mammograms do not require a referral and are typically 100% covered when you see an in-network provider. Imaging centers are open but may have protocols in place related to COVID-19. Please call ahead to ensure you are aware of the facility guidelines.
If you have any questions or need help finding a doctor or test facility, please talk with your primary care provider or give BCBSRI a call at (401) 459-1005.