A Checklist for Better Health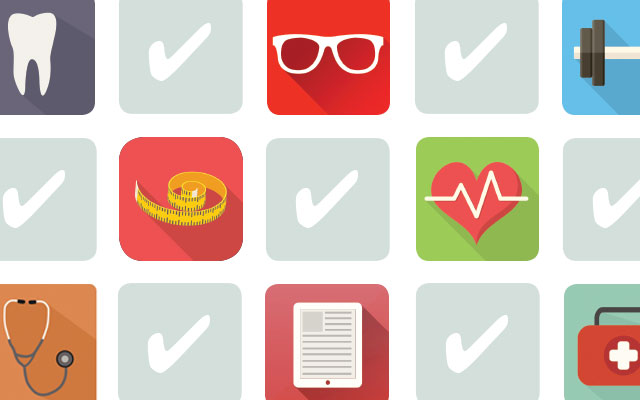 With the stress and challenges of the COVID-19 pandemic, it's more important than ever to take care of yourself. Our checklist makes it easier. You'll discover helpful tools and programs available through your BCBSRI health plan.
1. Schedule a no-cost wellness visit. 
Why: This annual visit helps you keep your health on the right track and helps your provider get to know you and your medical history. This visit is covered at 100% as part of your BCBSRI health plan when you see an in-network doctor.
How: Just call your primary care provider (PCP) to schedule an in-person or video visit. Don't have a PCP? Use our Find a Doctor tool or call BCBSRI Customer Service.
2. Address ongoing health issues.
Why: If diabetes, heart disease, and other health problems are not under control, they can lead to complications and even hospital stays.
How: Talk to your provider about whether you need to schedule a visit. For certain health issues, you can receive care from your provider over the phone or by video. You have coverage for clinically appropriate video and phone visits from certain in-network providers. This telemedicine coverage is a standard part of your BCBSRI health plan. 
3. Focus on your mental health.
Why: Your mind is just as important as your body, and this is a stressful time for just about everyone. Too many people with mental health issues, such as depression and anxiety, or issues with alcohol or drugs, suffer without receiving needed care. But treatment can make a tremendous difference in your health.
How: Call the BCBSRI Behavioral Health Line at 1-800-274-2958 for help finding a provider and other non-emergency issues. Learn about your mental health and substance use disorder benefits.  
4. Exercise for 30 minutes most days of the week.
Why: So many reasons! Exercise helps improve your mood and lowers your risk for heart disease, stroke, some cancers, diabetes, high blood pressure, depression, and much more. It also improves sleep and strengthens your bones.
How: Go for a walk or hike, dance, lift weights, do yoga, run, whatever gets your body moving. You can also take free online exercise and mindfulness classes live on the BCBSRI Facebook page at 10:00 a.m., and 2:00 p.m., Monday through Friday. If you can't make the live classes, you can view the videos anytime on the BCBSRI Facebook page. We also offer free in-person classes for members at Your Blue Store locations (with masks and socially distanced). Sign up for a class.* Plus, you can get exclusive member discounts on fitness equipment, streaming services, nutritional meal programs, and more with the Blue365 discount program.
5. Have preventive cancer screenings.
Why: These screenings can find diseases in earlier, more treatable stages and, in some cases, even help prevent them. Depending on your age, gender, and family history, this could include screenings for colon cancer, breast cancer, cervical cancer, and prostate cancer.
How: Ask your PCP (at your wellness visit) what screenings and tests you should receive. These screens are often $0 when you see a provider in-network. Ask your provider if the screening is covered at no cost under your plan.
6. Get your teeth cleaned.
Why: If your teeth aren't cleaned regularly, plaque and tartar can build up and lead to cavities, gum disease, or tooth loss. Gum disease may also worsen health problems such as diabetes and heart disease.
How: Call your dentist to schedule a cleaning. If you don't have a dental plan, visit bcbsri.com or call 1-855-690-2583.
*Not all exercises are suitable for everyone and any exercise program could result in injury. Always consult with your physician before beginning an exercise program, especially if you have an existing health condition.