Easy Vegetarian Recipes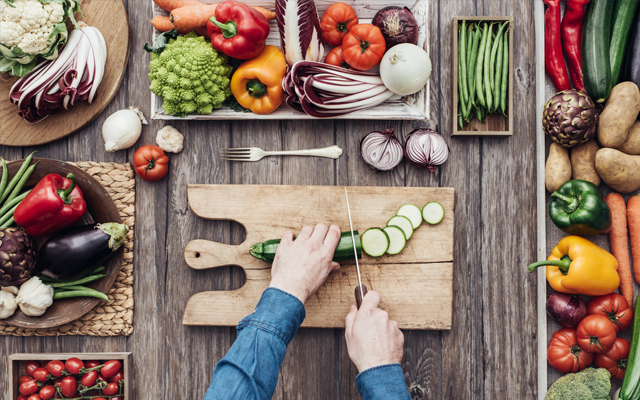 You want to eat delicious meals, but you also want to be heart-healthy. With the American Heart Association's Healthy for Good™ and Simple Cooking with Heart® programs, it's easier than ever to make simple, tasty meals that are both good AND good for you. Here are some ideas for delicious and satisfying vegetarian meals.
Mediterranean Couscous Salad With Chickpeas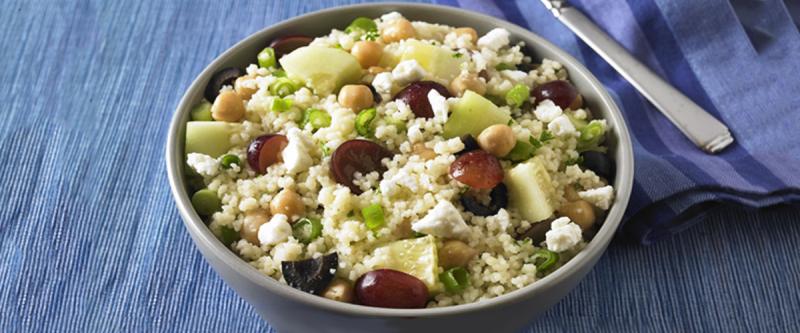 4 servings
Ingredients
1¾ cups water
1 cup whole-wheat couscous
2 medium cucumbers (cut into quarters)
1½ cups green or purple grapes (halved)
3 scallions
15.5 oz. canned, low-sodium chickpeas (also called garbanzo beans), drained, rinsed
1/3 cup chopped, pit removed black or Kalamata olives
2 Tbsp. dried parsley or ½ cup chopped, fresh parsley
1½ Tbsp. olive oil
1 Tbsp. lemon juice
4 Tbsp. reduced-fat feta cheese crumbles (divided)
Directions
Using the microwave or a teapot, bring 1¼ cups water to a boil. Add into a medium-sized heatproof container, along with couscous. Stir together and cover with a lid or very tightly with plastic wrap. Let couscous sit for 10 minutes.
Meanwhile, peel cucumbers. Quarter each cucumber and then cut into 1-inch chunks. Add into a large bowl. If desired, halve the grapes or add them whole into the bowl. Chop the scallions, about ¼ cup, and add into the bowl.
When couscous is finished, use a fork to fluff it and then add into the bowl along with the olives, chickpeas, parsley, oil, and lemon juice. Use a large spoon or spatula to stir to combine. Serve, topping each portion with 1 tablespoon feta cheese.
Watch a video of the couscous being made.
Nutrition facts: 466 calories, 9.9 g total fat (1.6 g saturated fat), 3 mg cholesterol, 271 mg sodium, 82 g carbohydrates
Recipe copyright © 2016 American Heart Association. This recipe is brought to you by the American Heart Association's Simple Cooking with Heart Program.
White Bean Hummus Wraps With Avocado and Bell Pepper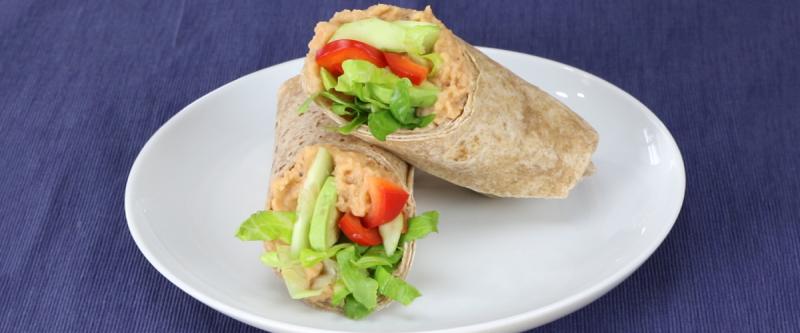 4 servings
Ingredients
White Bean Hummus
15.5 oz. canned, no-salt-added or low-sodium white beans (like cannellini) (drained, rinsed)
1 Tbsp. lemon juice
3 Tbsp. water
1/4 tsp. ground sweet paprika
1/4 tsp. ground black pepper
Wraps
1 medium tomato (thinly sliced)
1 medium cucumber (thinly sliced)
1 bell pepper (seeded, thinly sliced)
1 avocado (peeled, pit removed, sliced)
4 handfuls lettuce
4 (10-inch) multi-grain low-fat or low-carb wraps
Directions
White Bean Hummus
Drain and rinse the beans; add into the bowl of a food processor, along with remaining ingredients. Puree until the mixture is smooth, about 1 minute.
Wraps
Chop all the vegetables: slice the tomato, cucumber, bell pepper, and avocado. Spread about 1/3 cup white bean hummus over each wrap, leaving about a 1/2-inch border around the edges.
Divide vegetables onto each wrap, placing over the hummus

—

not all the vegetables will be used. Fold each side of the wrap up and then roll. Cut in half, if desired. Serve wraps with any extra vegetables and dip that is left over.
Nutrition facts: 345 calories per serving, 2.3 g saturated fat per serving, 88 mg sodium per serving
Copyright © 2018 American Heart Association, Healthy For Good
Eggplant, Cheese, & Tomato Bake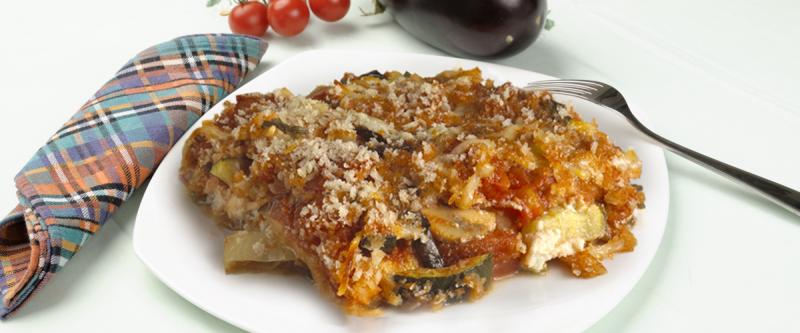 8 servings
Ingredients
1 large sliced eggplant (about 17-20 slices)
1 medium thinly sliced onion (about 2 cups), cut into bite-size pieces
2 zucchini (about 2 cups), cut into bite-size pieces
Non-stick cooking spray
2 tsp. extra virgin olive oil or canola oil
3 cups mushrooms (sliced)
3 cloves minced garlic OR 3 tsp. fresh, minced garlic
2 Tbsp. water
1/4 tsp. black pepper
29 oz. canned, no salt added, diced tomatoes
8 oz. canned, no salt added tomato sauce
3 Tbsp. fresh, chopped basil OR 1 Tbsp. dried basil
3/4 cup part-skim, low-fat ricotta cheese
1 cup low-moisture, part-skim mozzarella cheese (shredded)
1 cup whole-wheat bread crumbs OR 1 cup panko (Japanese breadcrumbs)
Directions
Preheat oven to 375 degrees. Arrange eggplant, onions, and zucchini on a baking sheet, sprayed with cooking spray. Lightly spray top of vegetables with cooking spray as well. Cover with aluminum foil. Bake for 10 minutes covered and 10 minutes uncovered.
In a small saucepan, heat extra virgin olive oil over medium heat, sauté mushrooms and garlic with water and pepper, until mushrooms begin to soften, about 6 minutes. Add diced tomatoes, tomato sauce, and basil, reduce heat and simmer for 10 minutes.
Spread half of the tomato-mushroom mixture on bottom of a 9"x13" baking dish coated with cooking spray. Then layer half of the eggplant, zucchini, and onion. Layer all of ricotta, and sprinkle a layer of half the mozzarella. Repeat layers with another half of the tomato-mushroom mixture and the remaining eggplant, zucchini, and onion. Add the remaining tomato mixture, evenly sprinkle the remaining mozzarella, and top with breadcrumbs.
Bake for 30-45 minutes or until most of the liquid has disappeared and cheese begins to brown. Let cool for 10 minutes before cutting and serving.
Nutrition facts: 161 calories per serving, 2.5 g saturated fat per serving, 138 mg sodium per serving
Copyright © 2018 American Heart Association, Healthy For Good