Member-Only Discounts on Healthy Living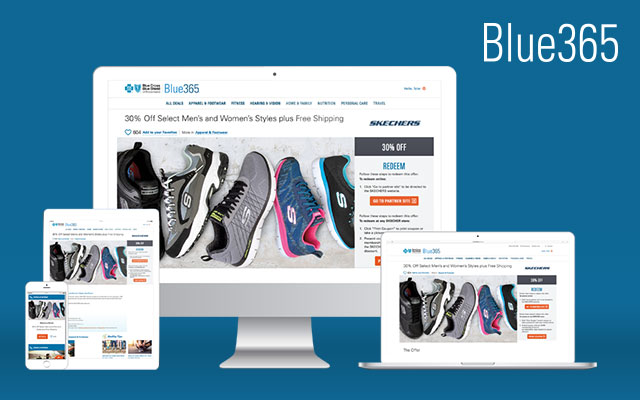 Looking for a gift related to health and wellness? Or something to treat yourself?
​​​​​
With Blue365®, you can get great discounts on online fitness classes, health trackers, Disney World tickets, sneakers, and much more—all at no extra cost through your BCBSRI plan. With your BCBSRI member ID card in hand, you'll be ready to shop in just a few minutes. Sign up now. 
Discounts from well-known brands
Every week, Blue365 will email you a special deal—or you can shop anytime at blue365deals.com/bcbsri. You'll find discounts on more than 45 top national retailers, including the deals below.
Fitness
Burnalong® – 68% off personalized, online health and wellness classes
Heart Rate Monitors USA® – Up to 55% off select Garmin, Polar, and FitBit products 
Fitness Your Way by Tivity® – Flexible, affordable gym packages with one membership to access up to 12,000 gyms nationwide, with packages starting at $19/month with a one-time enrollment fee of $19 or a digital-only option for $10/month
Nutrition
Blue Apron

® – New customers get $200 off across first five orders, plus 10% off
Profile® by Sanford® - Save $100 on a nutrition, activity, and lifestyle coaching plan
Apparel & Footwear
Sketchers® Direct – 30% off select men's and women's styles plus free shipping
Reebok® – 20% off products at reebok.com
Hearing & Vision
HearUSA® – 31% to 72% off hearing aids
ContactsDirect® – Save on contacts plus free express air shipping
Home & Family
Philips Avent®– 20% off Avent products for new moms and babies
Chewy® – $15 off your first purchase of $49+ with free shipping
Personal Care
eMindful® – 50% off mindfulness subscriptions for one year
Beauty Store Depot®– 25% off hair, beauty, and skincare products
Travel
Walt Disney World®– Save up to $60 per ticket
Avis® – Save up to 35% on rental cars
© 2000‐2022 Blue Cross and Blue Shield Association (BCBSA) – All Rights Reserved. The Blue365 program is made available by BCBSRI in conjunction with the BCBSA. The BCBSA is an association of independent, locally operated Blue Cross and Blue Shield Plans. Blue365® offers access to savings on items that members may purchase directly from independent vendors, which are different from items that are covered under the policies with BCBSRI, its contracts with Medicare, or any other applicable federal healthcare program. The products and services described herein are neither offered nor guaranteed under BCBSRI's contract with the Medicare program. In addition, they are not subject to the Medicare appeals process. Any disputes regarding these products and services may be subject to BCBSRI's grievance process. BCBSA may receive payments from Blue365 vendors. Neither BCBSA nor BCBSRI recommends, endorses, warrants, or guarantees any specific vendor, product, or service available under or through the Blue365 Program.