Dessert Crêpes with Berries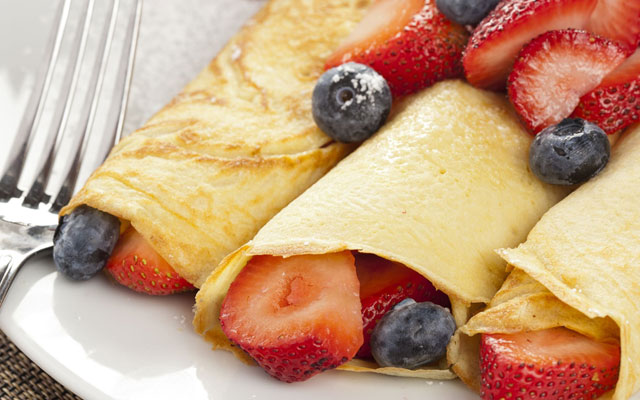 Ingredients
Crepes
3 eggs
1¼ cup low-fat milk
¼ tsp. gluten-free vanilla*
½ cup brown rice flour
3 Tbsp. potato starch
1½ Tbsp. tapioca starch
1 tsp. sugar
¼ tsp. salt
Fillings and Toppings
2 cups fresh blueberries, raspberries, or strawberries
100% pure maple syrup*
Gluten-free chocolate syrup*
Gluten-free powdered sugar*
Gluten-free vanilla frozen yogurt*
Directions
Beat eggs well; add milk and vanilla.
In a separate bowl, combine rice flour, tapioca starch, potato starch, sugar, and salt. Add to egg mixture and whisk until smooth.
Heat skillet to medium-high and grease with melted butter or cooking spray. Add ¼ cup of batter and swirl to cover pan.
Cook one minute or until golden brown, then flip. Add fresh berries and roll or fold inside crêpe. Dust with powdered sugar, and serve with desired toppings. 
*Many varieties of these products are gluten-free, but not all. Be sure to check the ingredient list carefully.
Nutritional info
289 calories, 2.4 g total fat (0.9 g saturated fat), 52 mg cholesterol, 113 mg sodium, 63.7 g total carbohydrate, 4.7 g protein
---