Quinoa Cranberry Pilaf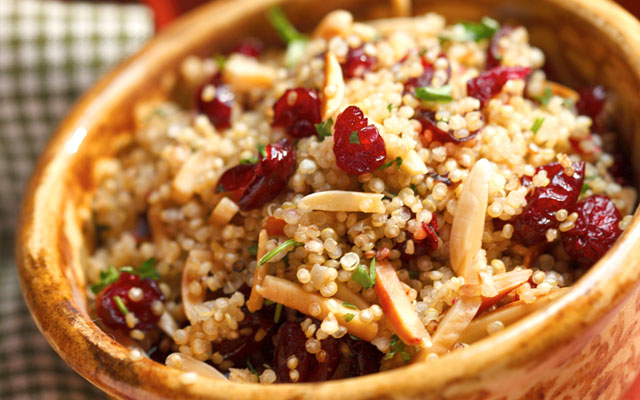 Ingredients
½ medium onion, chopped
1 tsp. extra-virgin olive oil
1 cup dry quinoa, rinsed
1 cup water
1 cup low-sodium chicken broth
½ cup dried cranberries
2 Tbsp. fresh parsley, chopped
½ cup slivered almonds or sunflower seeds, toasted
Directions
In a medium pot over medium heat, sauté onion in the oil until translucent, 3-5 minutes.
Stir in the quinoa and cook for 1-2 minutes more.
Add water and broth and bring to a boil.
Cover pot and simmer for 15-20 minutes. Turn off heat.
Add cranberries, parsley, and almonds (do not stir in yet) and replace cover.
Let sit for 5 minutes, then gently combine all ingredients.
Nutritional info
249 calories, 9.7 g total fat (0.9 g saturated fat), 0 mg cholesterol, 23 mg sodium, 32 g total carbohydrate, 9 g protein
---