Whole-Grain Cranberry Pancakes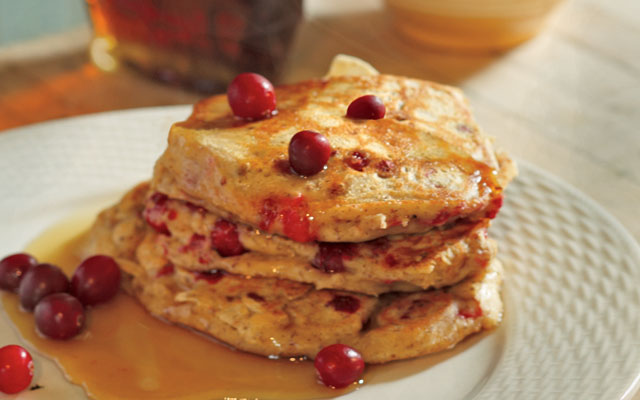 Ingredients
1 cup white whole-wheat flour
2 Tbsp. flax meal
2 tsp. baking powder
1 Tbsp. sugar
¼ tsp. salt
1 egg, beaten
2 Tbsp. safflower oil (or other light cooking oil)
1¼ cup low-fat milk
1 cup cranberries, fresh or frozen, coarsely chopped
Maple syrup for serving
Directions
In a large bowl, combine flour, flax meal, baking powder, sugar, and salt. Set aside.
In medium bowl, whisk the egg with oil and milk. Add to dry mixture along with cranberries and stir until just combined.
Heat up large skillet or griddle to medium and lightly grease.
Place about ¼ cup of batter for each pancake and cook until golden brown, 2-3 minutes, then flip to cook other side.
Keep warm until ready to serve.
Nutritional info
195 calories, 10 g total fat (1.3 g saturated fat), 45 mg cholesterol, 199 mg sodium, 22 g total carbohydrate, 5.7 g protein
---