Roasted Beet and Citrus Salad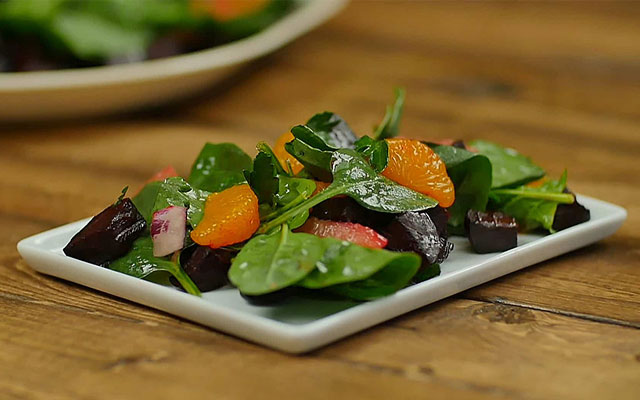 Ingredients
Cooking spray
3 medium beets, trimmed, peeled ,and diced into 1-inch chunks (4 cups)
2 Tbsp. canola oil (divided)
2 cups packed spinach leaves
2 cups canned ruby red grapefruit segments in water or own juice, drained
1 can mandarin orange segments (15 oz.) packed in water or own juice, drained
1 Tbsp. chopped red onion
2 Tbsp. chopped parsley
2 Tbsp. red wine vinegar
1/8 tsp. salt
Directions
Preheat the oven to 400˚F. Line a large baking sheet with aluminum foil. Lightly coat the foil with cooking spray.
 
Put the beets on the baking sheet. Drizzle with 1 Tbsp. oil. Roast for 45 to 55 minutes, or until the beets are tender when pierced with a fork.
 
When the beets are almost done, place the spinach in a serving bowl or on a large platter. Top with the grapefruit and orange segments. Sprinkle with the parsley and red onion.
 
In a small bowl, whisk together the remaining 1 Tbsp. oil, vinegar, and salt. Pour over the salad, tossing to coat. Top with the beets.
Nutritional info
170 calories, 7.5 g total fat (.5 g saturated fat), 26 g carbohydrates, 3 g dietary fiber, 3 g protein, 149 mg sodium
---
Notes
Pair with grilled or broiled fish, if desired.
Cooking Tip: To cook beets in a slow cooker, wrap each beet in aluminum foil. Arrange the beets in a single layer in the slow cooker. Cook, covered, on high for 4 to 5 hours, or until the beets are tender when pierced with a fork. When the beets are done cooking and are cool enough to handle, trim, peel, and chop them.
Keep it Healthy: Grapefruit can interact with a number of medications, including many heart medicines. Be sure to check with your doctor or pharmacist it you take any medication. If necessary, omit the grapefruit. Use an additional 15 oz. can mandarin orange segments or 1 20 oz. can pineapple chunks packed in their own juice to replace the grapefruit if desired.
Tip: Peel beets under running water to prevent the beet juice from staining your hands or wear disposable plastic gloves.
---
Source
©Copyright 2020 American Heart Association, Inc., a 501(c)(3) not-for-profit. All rights reserved. Unauthorized use prohibited.