See the 5-Star Benefits You Shouldn't Live Without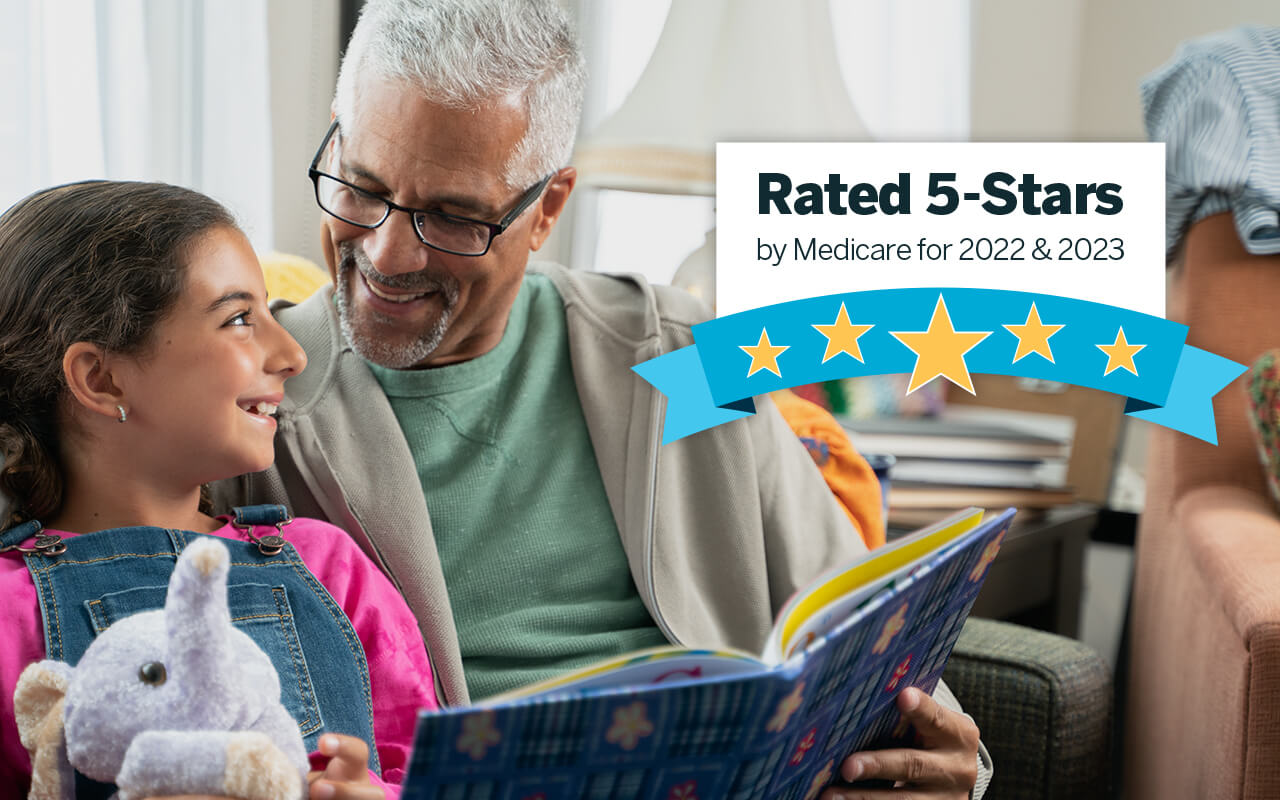 Your 2023 plan is one of Medicare's highest rated plans! All of BCBSRI's 2023 Medicare Advantage plans have once again earned the highest rating from the Centers for Medicare & Medicaid Services (CMS): a 5-out-of-5 Stars. So next year, you'll once again enjoy the benefits of a 5-Star plan, including even more savings and more coverage.
Here are highlights of what you can look forward to in 2023:
1. New! Your Flexible Benefit Card will make it easy to pay for the products and services you need the most. 
You can use this one card in multiple ways: 
Over-the-counter benefit. Get up to $100/quarter1 (depending on your plan) to choose from hundreds of OTC items in store or online. Keep your existing OTC card. Flexible Benefit Card balances will be available to use on January 1, 2023.
Dental, hearing, and vision benefit. Get up to $300/year (depending on your plan) to pay for dental, hearing, and vision services and copays, including glasses and contacts. This is in addition to your standard benefits.
2. Your $0 national gym membership will include video or phone sessions with a health coach. 
With your Silver&Fit®2 membership, you can work toward your fitness, nutrition, and lifestyle goals with the help of a trained coach— at no cost. Your $0 membership also includes: 
Your choice of 16,500 fitness centers across the country. The 50+ local fitness centers include most of the YMCA and Anytime Fitness locations in Rhode Island. 
A home fitness kit. Select your favorite from kits focused on strength training, Pilates, yoga, swimming, and more. 
8,000+ digital workout videos. You can even answer a few questions to get suggested videos and a personal exercise plan.
3. You can get assistance with everyday household chores from trained "helpers" for $0. 
Need help with raking, changing light bulbs, connecting your WiFi, or running errands? You can get up to 60 hours of help per year, which is available seven days a week. You can even schedule visits to play games or take a walk.
4. After a stay in a hospital or skilled nursing facility, you'll get freshly made meals delivered for $0. 
A local caterer will prepare a week's worth of meals and bring them to you right to your door.3 
5. Quality $0 dental coverage is part of your medical plan, including a yearly fluoride treatment.
Combining your medical and dental coverage makes using your benefits easy and convenient. Visit one of the 90% of RI dentists in our network. 
6. Your coverage includes $0 routine hearing and vision office visits and exams. 
In 2023, you can also choose to get a hearing test digitally through your desktop or mobile device. 
7. If you have diabetes, you'll save even more with reduced copays on insulin—$20 for a 30-day supply. 
For a 90-day supply, the copay will only be $50 through mail order, and copays remain consistent through the coverage gap. These savings are available on all insulins within our formulary.4
Bundle benefits for greater savings!
$0 ride to your eye doctor for your $0 vision exam + Flexible Benefit Card to buy contacts + OTC benefit to purchase contact solution = More benefits and savings
Exclusive benefits for our feature plans 
BlueCHiP for Medicare Value (HMO-POS) and HealthMate for Medicare (PPO) plans include the following benefits to support your wellness goals: 
Acupuncture 
Seeking alternative treatments? Visit the acupuncturist and pay only $15/visit. 
Caregiver reimbursement 
Receive help from a caregiver? Get $50/year to give to a caregiver who provides you with basic household and/or transportation assistance. 
Wellness reimbursement 
Use your funds toward your favorite healthy activities, like fitness classes, weight-loss programs, and sports lessons as well as in-home fitness equipment.
You'll enjoy your new benefits by … doing nothing! 
Your plan will automatically renew. Have questions or want to make a change? We're happy to help. 
CALL 
Medicare Concierge team at (401) 277-2958 or 1-800-267-0439 (TTY: 711) 
COME BY 
Your Blue StoreSM retail locations5 Cranston, East Providence, Lincoln, and Warwick 
CLICK 
bcbsri.com/medicare 
Watch videos to learn about your benefits, schedule a one-on-one appointment, and sign up for an in-person member benefit meeting.
1Unused benefits do not roll over to the next benefit period. You cannot exceed your benefit amount. Prices, brands, and items vary from store to store. Purchases made online or by phone using the catalog may also be different than what you find in stores. 2The Silver&Fit program is provided by American Specialty Health Fitness, Inc., a subsidiary of American Specialty Health Incorporated (ASH). Silver&Fit is a trademark of ASH and used with permission herein. The people in this piece are not Silver&Fit members. Participating facilities and fitness chains may vary by location and are subject to change. 3Get a week's worth of meals delivered to your door up to four times a year when you get home from an inpatient hospital or skilled nursing facility (SNF) stay. For more information on the meals program, call (401) 615-7891. 4The Insulin Savings Program is not available to members who qualify for a low-income subsidy (LIS). 5We follow state and federal guidelines during emergencies. Please visit bcbsri.com/events for the latest information.
*Rated 5-Stars by CMS in 2022 and 2023. 5-Star ratings can be found on www.medicare.gov. Every year, Medicare evaluates plans based on a 5-Star rating system.